Working moms – 'having it all' not yet a standard in Europe
62 per cent of the employment growth before the crisis was due to increased female labour force participation (EU27: 2000-2008). However, there is still plenty of unused work and human capital potential among women.
© NotarYES / Shutterstock
Work is a determining factor of gender equality and women's economic independence, but also important for the entire economy. An OECD study shows that halving the gender gap in employment could lead to an additional gain of 6 per cent in the GDP by 2030.
Women's employment patterns are tightly connected to motherhood as can be seen in the chart below. One of the key issues in increasing female labour force participation is thus the compatibility of childrearing and employment.
Our chart illustrates the remarkable differences between countries in mothers' employment. In Slovakia, where mothers of small children participate least in paid work outside home, the employment gap between mothers and other women is 42.2 percentage points. Similarly big differences can be found in Hungary and Czech Republic thus demonstrating huge potential for improvement in employment.
Surprisingly, a few countries, where women otherwise have high employment rates, have low participation rates for mothers of small children; Finland, Germany and the United Kingdom stand out especially. At the other end, Sweden, Denmark, and Slovenia illustrate how combining work and family can be possible for mothers.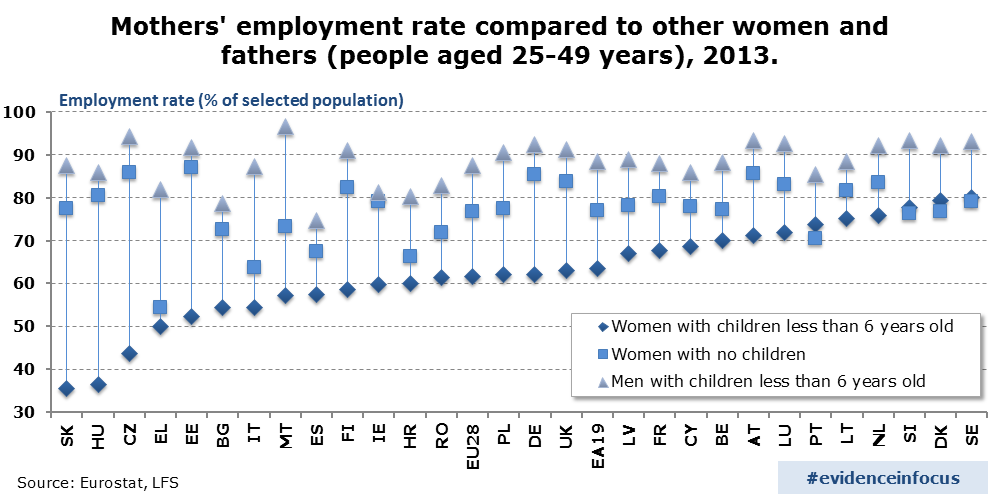 Cultural and social norms affect partly the choice of parents. These norms, on the other hand, have an impact on public policies, while existing policies can also shift attitudes. Different social, tax and labour market policies, from leave arrangements and financial incentives to the availability of childcare facilities and flexibility of working hours, explain the cross-country variation in mothers' employment.
If countries want to promote gender equality and make a better use of their entire labour market potential, family policies play a crucial role. Furthermore, fathers' role in balancing work-family responsibilities need to be better embedded in these policies. Family policies should not be considered involving only women!
To read more on the impact of family policies on mothers' employment, wait for the next edition of Employment and Social Developments in Europe, published in November 2015. Read here how the European Commission is addressing the challenges of work-life balance of families.
Author: M. Vaalavuo works as a socio-economic analyst at the Social Analysis unit of DG EMPL.
The views expressed in this article are those of the author and do not necessarily reflect the official opinion of the European Union.
Editor's note: this article is part of a regular series called "Evidence in focus", which will put the spotlight on key findings from past and on-going research at DG EMPL.