EU Skills Profile Tool for Third Country Nationals gets another upgrade
The EU Skills Profile Tool for Third Country Nationals is providing a new module to users, offering the opportunity to select online courses, like massive open online courses (MOOCS).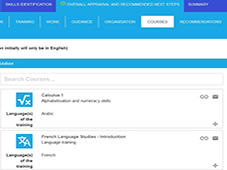 The latest upgrade means that, based on their answers in the tool's questionnaire, users will receive recommendations of relevant online courses. For example, if a third country national states an interest in improving language skills or learning a new language (e.g. English), online courses for English will appear under "Recommendations".
The user can have the same option when browsing through the "Courses" section. All courses are free to follow and available in several different European- and non-EU languages.
Webinar
To present the new (and existing) features of the tool, the European Commission will organise a webinar on Thursday 28 June at 3 pm CET.
The webinar will focus on the use of the tool by asylum centres, public employment services (PES), guidance centres, among other users. Participants are welcome to provide their feedback about the new features of the tool.
The webinar will be in English. If you are interested in taking part, please send an email to EMPL-E2-SKILLS-PROFILETOOL@ec.europa.eu.
Context
The EU Skills Profile Tool for Third Country Nationals has been developed by the European Commission to support early identification of the skills of refugees, migrants and other third country nationals in order to facilitate their integration into the labour market and wider society.
It can be used by any organisation, service or national authority offering assistance to third country nationals and aims to get to know individuals, their skills and experiences and provide recommendations on next steps.