Youth guarantee schemes – helping young people onto the labour market
The economic and financial crisis of the late 2000s hit young people particularly hard. Those making the transition from education/training to work faced limited job opportunities and unprecedented levels of competition, not only from their peers but also from people with extensive work experience who had recently been laid off. Increasingly, young people were confronted with the catch-22 situation of not being able to get a job without experience and yet little chance of getting a job to gain that experience.
By the end of 2012, more than 7.5 million young people aged 15-24 - 13.2% or more than one in eight of the EU population in this age-group - were not in employment, education or training (NEET). A further 6.6 million – more than one in five – of those aged 25-29 were similarly affected. In response, in April 2013, all 28 EU Member States committed to implement the concept of a Youth Guarantee (YG), which aims to ensure that all young people leaving education/training or becoming unemployed are given an opportunity of work or further education or training within 4 months. National YG schemes were launched in 2014.
The situation of young people has improved significantly since implementation of the YG. At EU level, the NEET rate has fallen from 13.0% in 2013 to 10.9% in 2017 for those aged 15-24 and from 21.0% to 17.7% for those aged 25-29, almost back to the historic lows seen in 2008 before the start of the crisis. Whilst it would be unrealistic to attribute this improvement entirely to YG schemes – the employment growth seen across the EU since 2012 largely reflects the more favourable economic situation – the YG has certainly contributed and, at the same time, driven the implementation of more accessible and better quality services for young people.
Annual monitoring data collected by the European Commission with help from Member States show that in the first three years of implementation (2014-2016) a total of 23.3 million young people (17.3 million aged 15-24 and 6 million aged 25-29) were registered in a YG scheme. Of the 21.2 million that have so far left the YG, two thirds (14 million) are known to have started work, a traineeship or returned to education/training, though in practice the number could be substantially higher as nearly a quarter of leavers do not tell their YG provider why they stop using the services available. The proportion of exits with unknown destination varies considerably between countries depending on their capacity to routinely track people using relevant administrative registers.
Figure 1 - Cumulative flows through YG schemes in the EU, 2014-2016 (millions)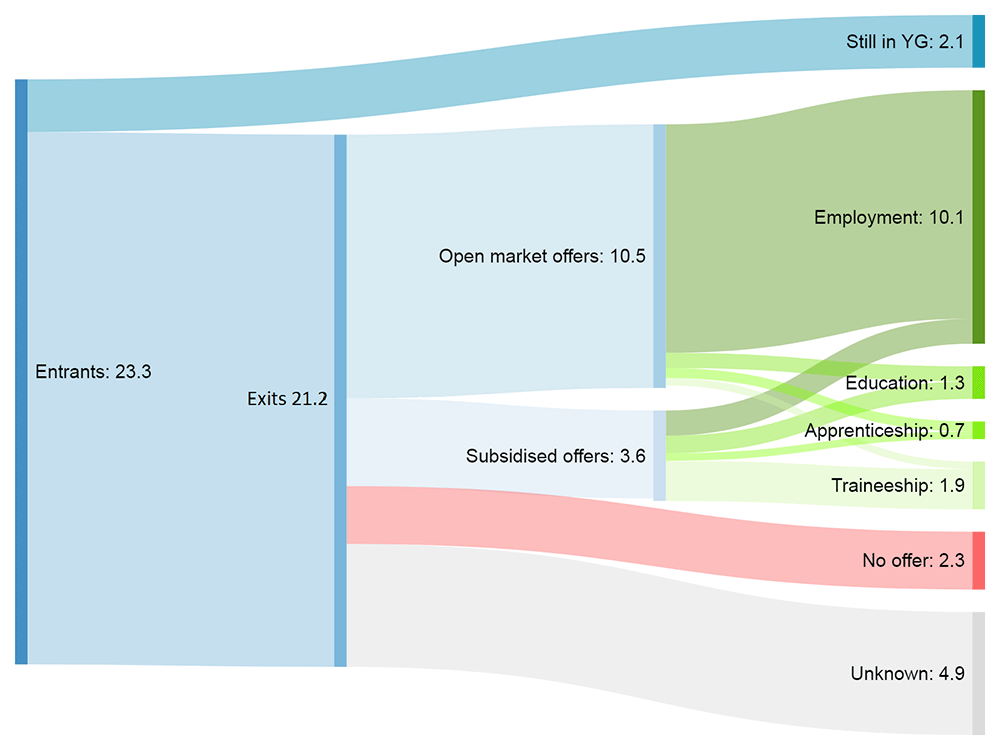 Source: DG EMPL, YG monitoring database
Not all of those taking up an offer of work or education/training have done so with the help of a YG provider (usually the public employment service or PES). Some will have found a placement on their own initiative, some with basic help from the YG provider acting as a broker of suitable job vacancies / training opportunities, while others will have benefitted from more intensive support tailored to their specific needs. It is not possible to differentiate these groups in the monitoring data, but it is possible to see the numbers that took up offers that were either fully or partially subsidised through public money, including the European Social Fund and the Youth Employment Initiative as well as national funds.
What are we monitoring?
Youth Guarantee Indicator Framework database contains information on the monitoring of Youth Guarantee schemes in the EU, including 28 Member State factsheets. Macroeconomic indicators based on data from the EU Labour Force Survey are used to monitor the general situation of young people in the labour market and therefore, indirectly, the impact of the Youth Guarantee and other measures that prevent young people from becoming NEET.
Implementation and follow-up (longer-term outcome) indicators are obtained from administrative data provided annually by Member States. They are based on data on the number of young people that have registered in Youth Guarantee schemes, how long they stay registered, where they go when they leave the register and where they are sometime after leaving.
To date, more than 3.5 million young people have benefitted from subsidised YG offers, including the majority of traineeship opportunities taken up to date (84%). Just over a million subsidised work placements have also been provided, though this represents only 10% of all the job starts for YG participants since 2014 (Figure 1).
---
The views expressed in this article are those of the authors and do not necessarily reflect the views of the European Commission.
Editor's note: this article is part of a regular series called "Evidence in focus", which will put the spotlight on key findings from past and on-going research at DG EMPL.