2013 Access City award for disabled-friendly cities goes to Berlin!
On December 3, 2012, European Commission Vice-President Viviane Reding handed the Access City Award 2013 to the city of Berlin.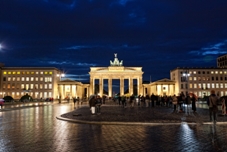 © www.shutterstock.com Shchipkova Elena
The prize has been awarded in recognition of Berlin's comprehensive and strategic approach to creating an accessible city for all. The award is organised by the Commission together with the European Disability Forum, and was presented on the occasion of the annual European Day of People with Disabilities conference in Brussels. The prize aims to encourage cities to share their experience and to improve accessibility for the benefit of all.
The jury selected Berlin for its strategic and inclusive disability policy, which has invested heavily in turning the formerly divided city into an accessible, barrier-free environment. The jury highlighted Berlin's transport system and investment in accessibility for disabled people in reconstruction projects. Berlin's comprehensive approach to accessibility is fully embedded in the city's policies and broadly supported by its decision-makers.
The other finalists were:
Nantes (France): rewarded for its complete approach to designing a city accessible for all and variety of activities to raise awareness of accessibility in everyday life. Nantes has invested in training for designers and architects and maintains a dialogue with citizens to allow people with disabilities to meet and set up common projects.
Stockholm (Sweden): chosen for its long-term, inclusive approach following Design for All. The "Vision Stockholm in 2030" aims to turn the city, where 30% of the central area consists of water, into a world class city accessible to all. Good examples include accessible pedestrian crossings, public toilets and playgrounds to ensure that they are accessible to children and parents with disabilities.
Europeans strongly believe that disabled people should be able to participate fully in society, according to a new survey by the European Commission released ahead of the European Day for People with Disabilities on 3 December