The majority of the unemployed in the EU do not receive unemployment benefits
In all EU countries, social security systems are in place to provide a safety net to those who lose their jobs. Much has been said about the generosity of unemployment benefits that may entice workers to stay at home rather than to look for a job, or about the need to make sure that the unemployed receiving benefits also meet obligations to actually look for a job or get training.
However, this debate often ignores that on average in the EU less than 40% of the short term unemployed actually receive unemployment benefits, according to the 2014 Eurostat Labour Force Survey. Moreover, this share has declined during the crisis.
This share varies widely across countries, being as low as 10 to 15% in Romania, Poland and Italy and more than 80% in Germany. Reasons vary: some workers are not covered by the scheme (e.g. the self-employed, the young), some are not entitled because they did not work long enough, and some do not claim the benefit. (Click to enlarge the graph below.)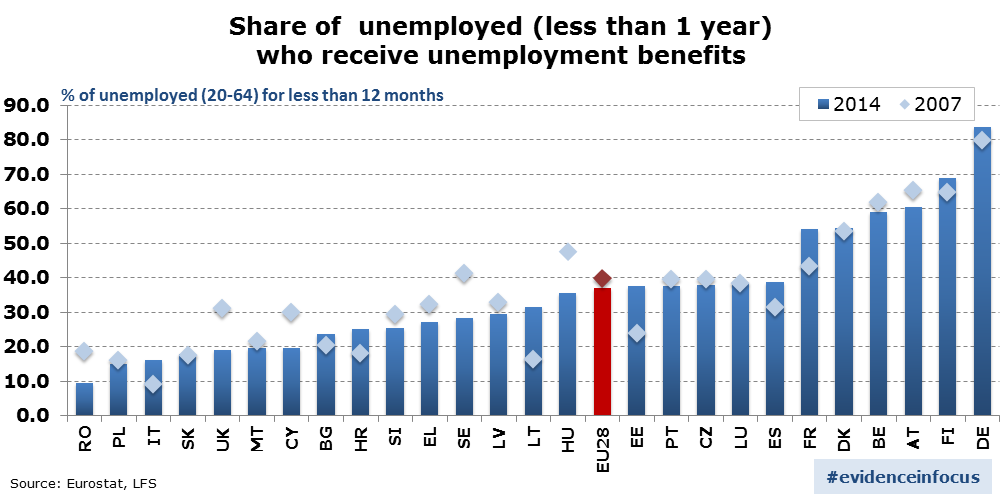 Source: Eurostat – Labour Force Survey – DG EMPL calculations
Low coverage raises concern both at individual and macro-economic level.
Losing a job has a strong and immediate impact on the income of the household. In the absence of replacement income, the unemployed may draw on savings or on the income of other family members.
In all cases the household will need to adjust consumption and living standards, with potentially harsh consequences especially for those who are already living on tight budgets. In such a situation, the unemployed may not have the private means to participate in training and foster his employability. They may be urged into a job not matching his skills or fall into social exclusion if labour demand is low.
At macro-economic level, if too many unemployed are not covered and reduce their consumption, this weakens the stabilising function of unemployment benefits, which is essential in case of a downturn. In the longer term, if too many people do not have the means to participate in training and upgrade their skills, this also weakens overall investments in human capital.
Our new working paper on benefit coverage will be published this autumn.
Author: I. Maquet is the Deputy Head of the Social Analysis Unit of DG EMPL.
The views expressed in this article are those of the author and do not necessarily reflect the official opinion of the European Union.
Editor's note: this article is part of a regular series called "Evidence in focus", which will put the spotlight on key findings from past and on-going research at DG EMPL.