Databases and indicators - LABREF and its use
The LABREF database is managed by the European Commission in cooperation with the Employment Committee (EMCO). The aim of the project, started in December 2005, is to support the work carried out in the framework of the Europe 2020 Strategy and to improve the understanding of labour market institutions as part of the general economic policy surveillance of Member States.
The measures reported in LABREF refer to enacted legislation, as well as other public acts of general scope, including measures entailing changes in the implementation framework of a previously adopted measure. In addition, they also encompass relevant collective agreements and tripartite agreements. The database does not record information on planned reforms or draft bills.
The LABREF database is organised around nine broad policy areas:
labour taxation,
unemployment benefits,
other welfare-related benefits,
active labour market policies,
job protection legislation,
disability and early retirement schemes,
wage bargaining,
working time organisation,
immigration and mobility.
Main uses of LABREF
The database allows for cross-country analysis on the pace and type of measures enacted in a particular year, as well as for tracking measures over time, thus providing a consistent and policy-relevant picture of different reform strategies being pursued by Member States and of the existing interactions between various labour market institutions.
Ex-post description of enacted measures, including the inter-linkages across reform areas and over time;
Background information for multi-annual assessment of reform strategies;
Feeding into:

EPC/EMCO multilateral surveillance exercises and thematic reviews;
Analytical reports and country studies, as well as briefings, speeches and inputs to the Commission's work in general;

Assisting in assessment of national reform efforts and in the issuing of recommendations to Member States in the framework of the Europe 2020 Strategy.
Information available
LABREF covers the 28 EU Member States and the years 2000-2013 (from 2003 for Bulgaria and Romania, and from 2012 for Croatia). The year 2014 is currently in the process of being updated.
Overview
Graph 1: Average number of labour market measures by policy domain, EU28

Click here to enlarge

(18 kB)
Graph 2: Average number of labour market measures by domain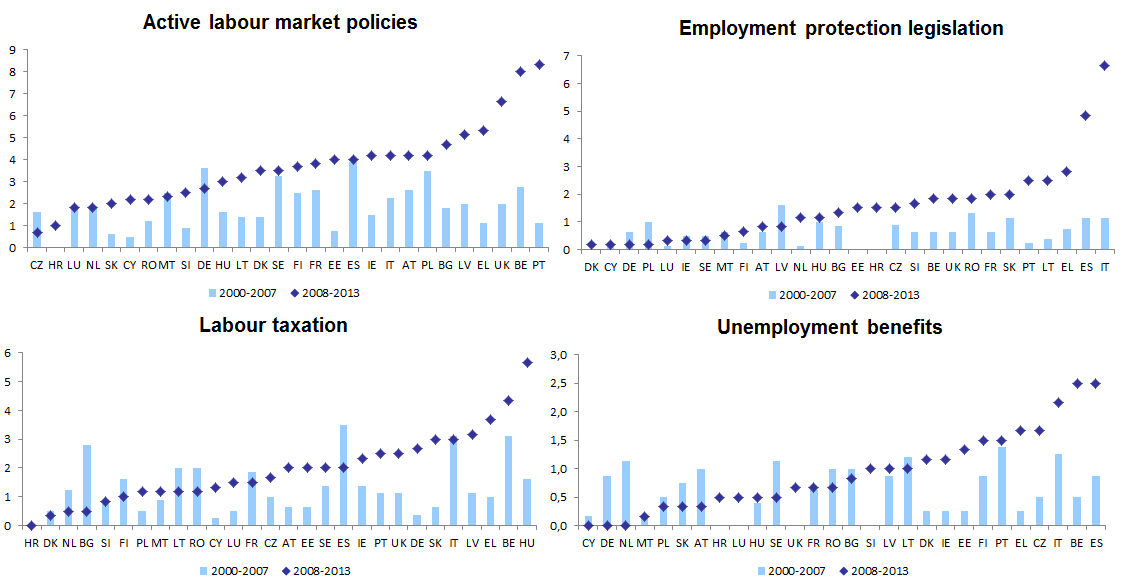 Click here to enlarge

(40 kB)
Graph 3: Number and composition of labour market measures by domain, EU28
Click here to enlarge

(18 kB)
Note: Information for Romania and Bulgaria starts in 2003, while information for Croatia starts in 2012
Papers and publications - suggested citation
When quoting, please include the link to LABREF and the following reference:
"LABREF database, DG EMPL, European Commission"
For a more detailed description of the database, please see the following paper:
"A Decade of Labour Market Reforms in the EU: Insights from the LABREF database"