Curtains up on new Barcelona exhibition centre
A project to expand the Fira de Barcelona has given the city one of the largest exhibition centres in Europe. Designed by one of the world's most innovative and influential architects, Toyo Ito, the new development is also one of the most cutting-edge as far as design, innovative technology and services are concerned.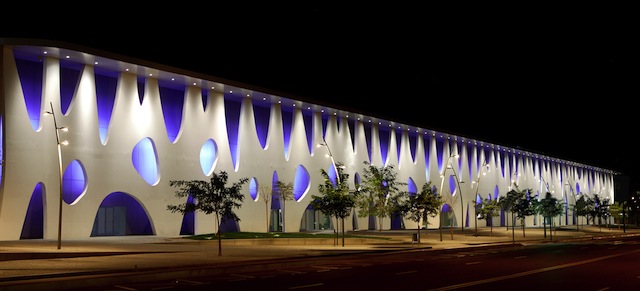 Sleek new exhibition centre in Barcelona now open ©Sleek new exhibition centre in Barcelona now open
" The architecture of the twentieth century was stoic and abstract. This era was characterised by buildings that can be designed and build anywhere in the world. In the twenty-first century, we must rethink how we can express a new way of living. "
Ideally located with underground metro links and parking space for more than 5 000 vehicles, the Fira de Barcelona was conceived with convenience of access in mind. Its functional and efficient architecture also create a welcoming environment for the visitor.
Iconic architectural design
Two new towers have risen up from Barcelona's skyline as construction of the new Fira de Barcelona complex nears completion. The two towers, of Venetian inspiration framing the entrance to the Plaça Espanya, are the work of Japanese architect, Toyo Ito, who was selected in 2003 to design the new complex in the city's Montjuic district.
The driving concept behind this EU backed project combines fluidity of movement as exhibitions draw thousands and ease of access to information and services for members of the general public, organisers and exhibitors.
The grounds of Gran Via have two access points, eight halls, six of which have already been constructed and an auditorium with a capacity of 2 500 spectators. The two access points – one at Plaça Europa, connecting directly to the subway station and car park, and the other at the opposite end near the Zona Franca passage – give maximum comfort.
Drawing in the crowds
The Fira de Barcelona project has given Barcelona 368 000 m² of covered exhibition space and over 5 000 parking spaces, making the complex one of the largest in Europe.
The administration and execution of the project were handled by Fira 2000 in cooperation with the Chamber of Commerce, Industry and Navigation of Barcelona, the Generalitat de Catalunya (autonomous Catalan government), the Barcelona City Hall, the L'Hospitalet de Llobregat City Hall, the Diputació de Barcelona (Barcelona City Council) and the Association of Municipalities of the Greater Barcelona Area.
Draft date
17/12/2009
Related themes
Technical information
Operational programme
Operational Programme 'Catalonia'
Thematic Objective
Competitiveness of Small and Medium-sized Enterprises (SMEs)
Programming period
2007-2013
EU Investment
84 350 000 EUR
Contact
Managing Authority
Beneficiary
Fira2000