Sustainable urban development for a district in need
This project has revived Spain's Xenillet district in the city of Torrent, bringing economic and social regeneration to its most disadvantaged areas.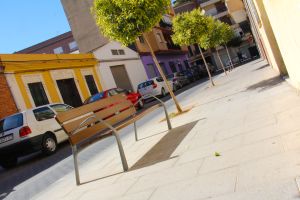 New street furniture brings Xenillet residents closer together ©Dr Andrés Campos Casado
Overall, the project upgraded the district, bringing it into line with the rest of the city. It managed to achieve this by correcting the district's urban layout, improving its appearance, and providing new services for residents such as drainage, street lighting, buried waste containers and open spaces.
In addition, various social and employment services have been introduced for its residents and job seekers.
A multi-faceted approach for change
Torrent's main street, Calle Valencia, was remodeled to fit with the rest of the city's main streets. Another 18 000 M2 of road was expanded and developed. This work included laying asphalt, treating green areas, and putting urban furniture in place. In addition, a so-called 'trinquet court' used to play pilota, the traditional tennis of Valencia, has been reconstructed, contributing to the social regeneration of the district. In addition, students landscaped a ravine, and a new pedestrian footbridge was built, easing the safe access of children to the nearby school.
The investment was also used for introducing social education programmes to help motivate, support, and advise the families of the Xenillet district in their personal and professional development. Training courses such as plumbing, bricklaying, hairdressing, and painting are now on offer. Children can also attend various educational workshops to learn about teamwork and how to respect their district. Meanwhile, citizens of all ages can attend environmental workshops to learn awareness and respect for their surroundings.
In the Juan XXIII state school, interactive whiteboards and computer rooms were installed, making it Valencia's first so-called Smart Singular Educational Action Center (CAES). A social centre was also revamped, now housing a new reading room, library, computer room, and classrooms for young people, adults, and the elderly to improve their digital literacy, social skills, and sociocultural integration. A new kindergarten was constructed for children coming from destitute families.
Xenillet is a complex district due to its weak economic fabric, high levels of poverty, social isolation, and physical isolation. The majority of the district's population is ethnically Roma or elderly working class people from the Spanish immigration of the 1960s. In recent years, an influx of new immigrants with low professional skills has contributed to the economic crisis.
So far, the project has provided skills and jobs for 268 people in the Xenillet district, and 50 families have benefited from social education programmes.
Total Investment and EU Funding
Total investment for the project "Urban Initiative Programme for the Xenillet District in Torrent" is EUR 12 529 298, of which the EU's European Regional Development Fund is contributing EUR 10 023 438 from the Operational Programme "Valencia" for the 2007 to 2013 programming period.
Draft date
01/02/2016