Empowering victims of gender-based violence in Murcia, Spain
In Murcia, Spain, an EU-funded project aims to support women who are victims of gender based abuse and provide training to improve their chances of getting a job. Over 50 % of the participants have already found jobs, and around 223 women are receiving training each year.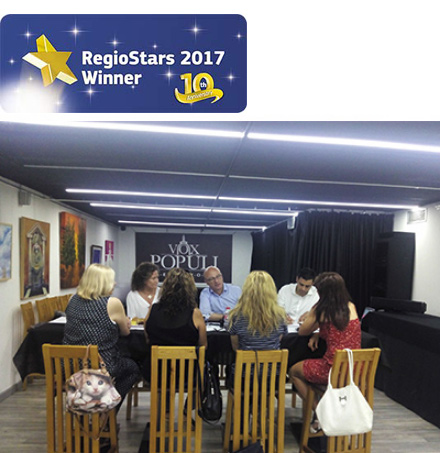 Victims of gender-based violence receiving support ©Coordination to improve gender-based violence survivors' labour market integration and social inclusion
" This project encourages everyone committed to the empowerment of women survivors of GBV. It motivates us to continue working in this area and improve their access to the labour market. "
Around 3356 women in Murcia have so far attended the Regional Network of Gender-Based Violence Intervention Centres (CAVI) and 1761 protection orders were issued by Murcia's courts in 2016. At the same time, the Regional Service for Employment and Training (SEF) reported female unemployment at almost 30 %, while the rate for men was 20 %.
The conclusion was that high unemployment in the region was having a pronounced effect on the victims of gender-based violence. As a result, the EU-funded project was set up to empower victims of gender-based violence by giving them the skills they need to become competitive in the jobs market.
Joining forces to find solutions
With support from the European Social Fund and the regional government of Murcia, CAVI and SEF joined forces to get this project under way.
The women receive the necessary support and counselling when they enter the centres and are encouraged to seek economic independence from their partner by getting a job. Each woman is given a plan tailored to her specific circumstances in order to identify the approaches which best suit her individual needs.
For many women, this will mean signing up to the SEF training programmes. Under this project, they are given priority access to the training and receive grants to cover childcare and transport while they attend the courses. The centres also help them with their application for unemployment benefits or managing other administrative procedures – to date, 92 % of women have benefited from this invaluable support.
Supporting the employers, too
As part of the programme, incentives are also provided for companies to encourage them to employ survivors of gender-based violence. Labour market integration is a key aspect covered by this scheme.
Furthermore, the project provides training to professionals from CAVI and SEF to ensure that they have the know-how and sensitivity required to manage gender-based violence issues.
Total investment and EU funding
Total investment for the project "Coordination to improve gender-based violence survivors' labour market integration and social inclusion" is EUR 5 610 000, with the EU's European Social Fund contributing EUR 1 204 000 through the "Murcia ESF" Operational Programme for the 2014-2020 programming period.
Draft date
01/08/2017
Related themes
Technical information
Fund
European Social Fund (ESF)
Operational programme
Murcia - ERDF
Thematic Objective
Promoting social inclusion & combating poverty
Programming period
2014-2020
Project duration
01/2011 - 12/2020
Total Investment
5 610 000 EUR
EU Investment
1 204 000 EUR
Contact
Managing Authority
Subdirección General de Gestión del FEDER de la Dirección General de Fondos Comunitarios. Ministerio de Hacienda y Función Pública
Paseo de la Castellana, 162 28071 MADRID
Beneficiary
Servicio Regional de Empleo y Formacion
Infante Juan Manuel
30011
, Murcia
Sverige
Web