CENTRO BIO: Bio-based growth for rural economies
Researchers and businesses in Portugal are piloting a smart, circular economy for rural areas. A biorefinery, biotech research, SME support and training for students are driving the change.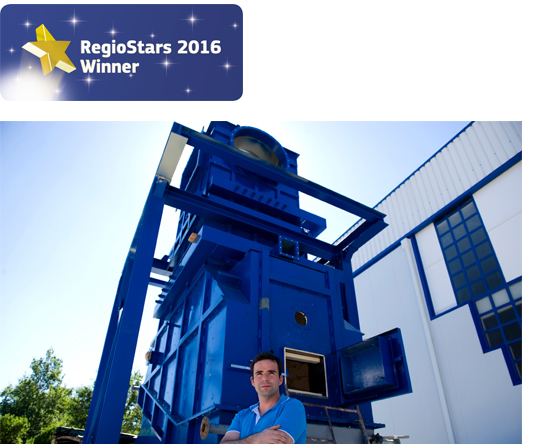 President and research coordinator Joao Nunes in front of a full-scale model of a biorefinery unit for production of petroleum substitutes, converting wastes from forestry and farming at the BLC3's R&TD Centre in Lagares da Beira, Oliveira do Hospital, Portugal. RegioStars 2016 ©Associated Press
" We proved that technologies and knowledge transform problems and opportunities into new business prospects, for a competitive local economy with a low environmental impact and high economic efficiency levels, thus creating industrial and regional symbiosis. "
In the forested mountains of Portugal's Centro region, a revolution is taking place. A technology and innovation centre is developing a bio-based rural economy that sources fuel and raw materials sustainably, creating new jobs and businesses, while limiting imports and preserving the area's natural beauty.
Inspired by agricultural and forestry waste and residues that were a local hazard but have the potential to interact into different value-chains, the Centro Bio: Bio-industries, Biorefineries and Bioproducts project works with researchers and local farmers, foresters and entrepreneurs to develop new industries from by-products, improve businesses efficiency and train future scientists and entrepreneurs. The project is working towards a sustainable 'circular economy' for the area – one where businesses interact and share resources to avoid waste – and is funded by EUR 2 640 000 from the European Regional Development Fund.
Transformative technology
The project's network covers towns and rural communities scattered over a 1 000 km2 area. These produce thousands of tonnes of organic waste each year and import many of their needs, including fuel.
Part of an EU-wide network of 55 R&D organisations, BioCentre shows how technology can turn these problems into opportunities. A cutting-edge bio-refinery is able to produce up to 25 million litres of biofuel per year from leftover plant matter, for a reliable local source of low-carbon energy. The project also prevents forest fires in the area by providing a market for flammable biomass residues and reducing inhabitants' need to harvest plants for fuel.
Researchers at the BioCentre also look into the potential of overlooked resources and by-products – such indigenous fungi or liquid left over from cheese-making – to generate innovative industries. And to invest in the region's greatest resource – its people – it promotes science and entrepreneurship to students and schoolchildren, and quality of life improvements for all.
Business benefits
Practical help for entrepreneurs includes R&D knowledge, mentoring, labs and offices for start-ups, along with efficiency advice for more established SMEs. Other support guides researchers and entrepreneurs through the funding and regulatory maze to commercialise innovations.
So far, the research centre has created 52 highly-skilled jobs, four spin-offs, six start-ups and 24 R&D sub-projects, and generated commercial interest in its biorefinery technology. It is also helping set up the All-Portuguese Association of bioeconomy and circular economy.
The centre plans to link up with two more regions – the North and Alentejo Regions – for a wider smart region. Ultimately, it aims to generate from EUR 2.9 to 4.3 billion in annual income and over 70 000 jobs.
Total investment and EU funding
Total investment of the project "Centro Bio: Bio-Industries, Biorefineries and Bioproducts" is EUR 3 159 000, with the EU's European Regional Development Fund contributing EUR 2 640 000 through the "Centro" Operational Programme for the 2007-2013 programming period.
Draft date
09/09/2016
Related themes
Contact
Managing Authority
Beneficiary
Associação Blc3 - Plataforma para o Desenvolvimento da Região Interior Centro
Rua Nossa Senhora da Conceição, 2
, Oliveira do hospital
Portugal
Web