6DSPACES: combining multimedia technology with the senses
A research and development (R&D) project in Portugal has created interactive multimedia solutions for use in museums, exhibition halls and other public spaces. Its success has led to company expansion and job creation.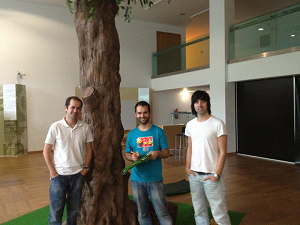 Part of the Wow! team signing-off the installation of the developed 6 m-height interactive tree. ©Part of the Wow! team signing-off the installation of the developed 6 m-height interactive tree.
" Not only has 6Dspaces helped create direct jobs; it also contributed for the internationalisation of the company in the form of foreign investors, which translated into new clients for Wow!Systems in countries such as Italy and Brazil." "
Created by Portuguese interactive solutions company Wow!Systems, 6DSPACES combines high-end multi-3D-videoprojections with human senses such as smell, touch and hearing. The result is a "large and immersive space" for the enjoyment of Madeira's residents and its many tourists.
To reach a final prototype, the team first studied how to really engage users with multimedia interactive installations. They then built a pilot-installation in the form of a video projection tunnel. With the help of R&D institute, INESC-ID Lisbon, a 3D sound system was created for the tunnel, which was combined with scent projectors and nature-like objects such a large tree – all appealing to the senses. Finally, usability surveys with members of the public were carried out and the prototype was redesigned accordingly.
6DSPACES was important for the competitiveness of Wow!Systems as it created 5 permanent jobs for the company. The positions were taken by Computer Sciences students from the nearby University of Madeira, avoiding the all too familiar "brain drain", which has plagued the island and indeed Portugal in recent years.
The success of the project also meant the company could invest in other business areas such as mobile platforms, leading to the creation of its first spin-off known as "F-app-tory" - an online service for developing mobile apps. This diversification has generated revenue for the region as a whole as well as creating new jobs.
As a direct result of 6DSPACES, the company has obtained vital international contacts and established new partnerships with respected bodies such as the Madeira Interactive Technologies Institute.
Total investment and EU funding
Total investment for the project "Research and development of interactive surfaces (6 D), sound, aromatization and touch" is EUR 314 333 , of which the EU's European Regional Development Fund is contributing EUR 198 731  from the Operational Programme "Madeira" for the 2007 to 2013 programming period.
Social media
Related themes
Technical information
Operational programme
Operational Programme 'Madeira'
Thematic Objective
Competitiveness of Small and Medium-sized Enterprises (SMEs)
Programming period
2007-2013
Project duration
01/2009 - 01/2012
Total Investment
358 539 EUR
EU Investment
226 679 EUR
Contact
Managing Authority
Beneficiary
WOW!SYSTEMS INFORMÁTICA LDA
Rua da Queimada de Cima n.33 1.andar
, Funchal
Portugal
Web