'One card, one app' just the ticket for Polish travellers
An EU-funded project has introduced a mobile application to encourage Polish commuters in the Małopolska region to make better use of public transport.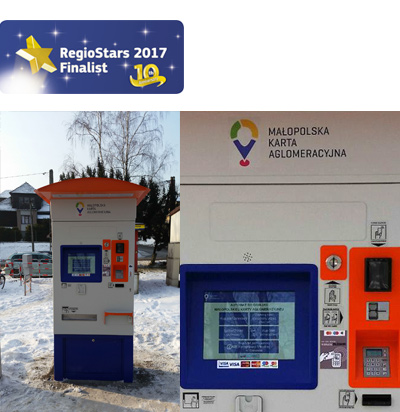 A MKA ticket machine, where travellers can top up their public transport cards and buy single-use rail tickets. ©The Małopolska Agglomeration Card (MKA) Transport Management System of the Małopolska region.
" When I was designing the MKA system, my goal was to increase availability and range of transportation services for the region. I believed it would be crucial to design a solution where inhabitants could purchase all transport services in one place. "
The Małopolska Agglomeration Card (MKA card) is an integrated ticketing scheme for commuters in Krakow and Tarnow. A complementary mobile application allows commuters to easily pay online for tickets at more competitive prices, which has made life easier for those using public transport, which includes travellers using the Fast Commuter Rail constructed by the region.
The project aims to encourage people in the region to leave their cars at home or at 'Park and Ride' areas so as to reduce Poland's carbon footprint. Additional benefits include cleaner air, which improves residents' quality of life, and advancing digital development across the region.
Pay online easily and securely
The simplified process means that instead of carrying several cards, commuters have just one. The app allows users to buy public transport tickets via multiple payment methods, using their secret PIN code or fingerprint, book Park and Ride parking spots and check train timetables. Those using the system can easily and securely top up their credit at any time, even when offline. They can connect their payment card or use money transfers to pay for tickets at a lower price than is available elsewhere.
The cities' park-and-ride car parks have been brought entirely online via the MKA system. Drivers are identified by their licence plates and PIN codes, so that even if they leave their smartphone or MKA card at home, they can still access the car parks.
The different tickets on offer include monthly or yearly subscriptions, and single-ride tickets. In just 12 months, more than 300 000 single-ride tickets were sold via the application.
Adaptive applications for the future
The online system also enables local authorities to gather user-preference data in order to analyse what local transport services are most popular, and thus to improve services for commuters.
The app has also been designed to integrate with other public systems in the Małopolska region, such as medical and administrative services, and for buying tickets for cultural and tourism events and facilities.
Following the project's success, there are plans to install over 100 new MKA ticket machines and to develop several more park-and-ride areas in Krakow and Tarnow.
Total investment and EU funding
Total investment for the project "The Małopolska Agglomeration Card (MKA) – transport management system of the Małopolska Region" is EUR 3 837 083, with the EU's European Regional Development Fund contributing EUR 3 049 261 through the "Lesser Poland" Operational Programme for the 2007-2013 programming period.
Draft date
22/06/2017
Related themes
Contact
Managing Authority
Beneficiary
Regional Roads Management in Krakow
Głowackiego Street No 56
30-085
, Krakow
Polska
Web