New trolleybuses help modernise public transport in Lublin
EU funding has enabled the city of Lublin, Poland to update its public transport fleet with 30 new trolleybuses and related infrastructure. This has helped to stem the flow of passengers away from public transport and towards cars, with positive impacts for the environment.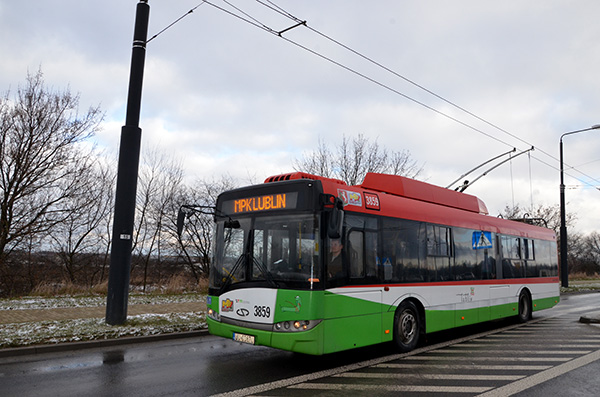 One of the new Lublin trolleybuses purchased under an EU-funded project. ©Katarzyna Latkowska
" I use public transport every day. The introduction of new rolling stock has clearly increased the comfort of travelling and attracted new passengers. "
The trolleybuses purchased under the project have seats for 2 850 passengers. Traction substations on Garbarska, Kraśnicka and Szczerbowski streets, which convert electric power supplied by the grid into the voltage, current type and frequency needed for trolleybuses, were also modernised.
A new substation control centre was installed in the building on Szczerbowski street. Promotional activities showcased the work and its benefits for local people and the environment.
Negative effects of outdated equipment
Long travel times and low levels of comfort on Lublin's existing transport fleet had led to increases in car use, congestion, traffic accidents, pollution and noise. Also, the equipment in the substations on Garbarska, Kraśnicka and Szczerbowski streets was outdated, raising the risk of power outages that could leave trolleybuses stuck in the middle of roads. This would cause delays, present a danger to other road users, and cause further congestion, noise and exhaust emissions.
Air pollution from emissions lowered living standards for residents. This slowed down economic development and led to losses for the regional and national economy.
A 2008 study on the quality of Lublin's public transport confirmed the need to modernise the fleet and its infrastructure. It showed that the most important aspects of a public transport system for travellers are punctuality, frequency and regularity of services, safety, direct connections and travelling conditions.
Long-term reliability
The project prepared the necessary documentation and purchased new equipment that was in line with the requirements of energy suppliers and relevant regulations. Installation of the equipment required construction work in public buildings and outdoors. State-of-the-art technology fitted in the substations should provide sufficient reliability and energy efficiency to guarantee the necessary power supply for at least 35 years.
Regarding its aim of increasing the competitiveness of environmentally friendly public transport, the project has been a success. The number of journeys with Lublin's municipal public transport company rose from 102.3 million in 2013 to 122.9 million in 2015. In the same period, figures for all public transport journeys in Lublin were 115.3 million and 125.4 million respectively.
The project has cut the risk of cancelled or delayed journeys due to breakdown or power failure. Modern trolleybuses equipped with internal monitoring improve passenger safety and comfort, while low floors in the new buses increase accessibility for people with disabilities.
As well as being quieter than the old trolleybuses, the new trolleybuses are faster, cutting the number needed for public transport. More use of electric traction vehicles in urban transport reduces emissions, while new technology improves communication within the fleet.

Total investment and EU funding
Total investment for the project "Renovation of traction power rectifier and trolleybus fleet replacement" is EUR 14 490 118, with the EU's European Regional Development Fund contributing EUR 6 263 745 through the "Lubelskie" Operational Programme for the 2007-2013 programming period.

Draft date
25/01/2017
Related themes
Contact
Managing Authority
Beneficiary
Miejskie Przedsiębiorstwo Komunikacyjne w Lublinie Sp. z o.o.
Antoniny Grygowej 56
20-260
, Lublin
Luxembourg
Web