e-Mental Health Center – Using VR to make mental healthcare accessible
The eGGZ e-Mental Health Innovation and Implementation Center, in Diemen, next to Amsterdam in the Netherlands, developed four virtual reality (VR) applications for the treatment of anxiety, depression and Post Traumatic Stress Disorder. Thanks to an intensive co-creation approach that brought together game developers/SMEs, mental health treatment centres, universities, and end users themselves, the project established best practices for future e-mental health initiatives.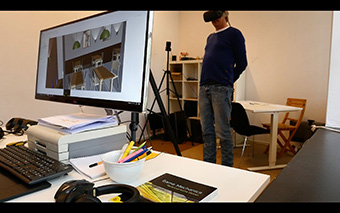 The eGGZ e-Mental Health Innovation and Implementation Center developed virtual reality applications for treating anxiety, depression and PTSD. ©E-MENTAL HEALTH CENTER
" An integrated approach is an absolute necessity, whereby from the first ideas for a new e-product, all possible hindering factors are taken into account. You have to be ahead of the problems, this saves a lot of frustration and considerably increases the chance of success in practical implementation. "
The project was initiated by the ARQ National Psychotrauma Center in Diemen. It has ensured that game developers/SMEs are better equipped to develop e-mental health products and allowed policymakers to better understand how e-mental health can meet increased demand for affordable and accessible mental healthcare. Thanks to the project, those involved in mental healthcare now have more access to knowledge-sharing through conferences, seminars, meetings and training courses.
Overall, the project has reinforced the Netherlands' position as a leading player in the field of e-mental health implementation and research.
Co-creation for better results faster
One of the project's main objectives was to optimise and accelerate all stages of the e-mental health product lifecycle with an intensive co-creation approach. This meant that state-of-the-art e-mental health tools could reach the market – and ultimately benefit those who need them – faster than in the past.
Patients were actively involved in developing the apps from the beginning to ensure their needs were understood and met. The participating universities – Amsterdam UMC (University of Amsterdam) and VU University Amsterdam – contributed to a research model that accelerated validation of the apps and allowed game developers/SMEs to develop business cases to successfully bring the apps to the market.
With these strong partnerships in place, app development was streamlined, and foundations were put in place for future collaboration.
Working towards large-scale implementation
Although most mental healthcare treatment centres in the Netherlands use some kind of e-mental health tools, large-scale implementation of e-mental healthcare has traditionally been slow, and products and knowledge have not reached the market effectively.
As part of the project, conferences, seminars, meetings and training courses were organised to foster knowledge-sharing and raise awareness. For example, the 'Sneller, beter, hoe?' (Faster, better, how?') conference organised in November 2019, aimed to help demystify e-mental health tools and encourage their use.
This, and other conferences and meetings on themes such as the integration of e-mental health in the work processes, cost-effective e-mental health applications, 'best practices' and policy development, gradually help shift the focus to a smarter, more resource-efficient way of supporting better mental health across society.
Total investment and EU funding
Total investment for the project "e-Mental Health Center" is EUR 2 221 700, with the EU's European Regional Development Fund contributing EUR 444 430 through the "West Netherlands ERDF" Operational Programme for the 2014-2020 programming period. The investment falls under the priority "Increase the research and innovation intensity in SMEs and improve their uptake of innovations".
Draft date
09/01/2020
Social media
Related themes
Contact
Managing Authority
Het College van Burgemeester en Wethouders van de Gemeente Rotterdam
Postbus 6575, 3002 AN Rotterdam
Beneficiary
ARQ National Psychotrauma Center
Nienoord 5 – 13
, Diemen
Nederland
Web