HARMONIA: Harmonising environmental policies in Adriatic, Ioanian region
Through an international collaboration spanning six countries, the HARMONIA project is establishing a harmonised, homogenous system for environmental monitoring in the Adriatic and Ionian region, and for assessing the possible impact of new activities before permission is granted for their realisation.
HARMONIA will strengthen the existing transnational network of data infrastructure to facilitate access to and re-use of marine data among countries bordering the Adriatic and Ionian seas.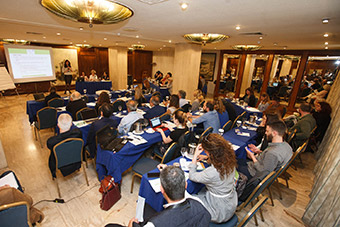 HarmoNIA First Stakeholder meeting, Athens, April 20, 2018 ©Pavlos Pavlidis
" Transnational analysis of sampling protocols and analytical methodologies used to determine specific marine contaminants has been carried out in the Adrion region and best practices for harmonised sampling, analytical, data quality control procedures have been drafted. Expertise and ICT tools have been shared to strengthen the network of data infrastructures, to facilitate access and re-use of marine data. Information required to assess coastal vulnerability to contaminant dispersion has been organised in a dedicated Geoportal. "
Launched by the Italian National Institute for Oceanography and Experimental Geophysics, the project brings together countries sharing a common marine environment to develop a systematic approach to environmental monitoring.
Although environmental policy tools exist at EU level, coordination of pollution-combating efforts in the two seas is a big issue. A transnational and methodological approach is needed. HARMONIA's objective is to open existing marine databases to everyone involved and develop a regional strategy for evaluating marine pollution.
Sharing information
Since its establishment, HARMONIA has become the central point for exchanging information and expertise on environmental management. Existing marine databases are accessible to all the partners, and they can now share best practices for assessing the state of the Adriatic and Ionian seas.
Through this shared geoportal, the project will conduct several case studies of contaminant dispersion in the region. HARMONIA will strengthen the region's civil protection protocols and enhance capacity in safeguarding the marine ecosystems of countries bordering the seas.
The international collaboration has ensured the region's good environmental status (GES) – and that any assessments of that status will be based on a systematic. harmonised approach. The European Commission defines GES as: "The environmental status of marine waters where these provide ecologically diverse and dynamic oceans and seas which are clean, healthy and productive."
Working from coast to coast
Institutions from all the involved countries are adopting a joint management system for contamination in the region. This will lead to the development of a regional strategy to improve the way the marine environment is monitored. In turn, this will pave the way for a more effective evaluation of the region's contamination risk.
Ultimately, the project's goal is to have local, regional and national authorities in charge of marine environmental assessment, management and conservation use this strategy to tackle pollution in coastal areas.
Total investment and EU funding
Total investment for the project "HARMONIA - Harmonization and Networking for contaminant assessment in the Ionian and Adriatic Seas" is EUR 1 290 978, with the EU's European Regional Development Fund contributing EUR 1 097 331 through the "Interreg V – B Adriatic Ionian" Operational Programme for the 2014-2020 programming period. The investment falls under the priority "Environment and resource efficiency".
Draft date
12/04/2019
Related themes
Contact
Managing Authority
Regione Emilia-Romagna Direzione Generale, Programmazione territoriale e negoziata. Intese. Relazioni internazionali ed europee (General Directorate, Territorial and negotiated planning. Agreements. European and International Relationships) Italy
Beneficiary
National Institute for Oceanography and Experimental Geophysics
Borgo Grotta Gigante 42/C
34010
, Sgonico
Italia
Web