WISE – Giving women in Donegal, Ireland, the skills and confidence to return to the labour market
A project based in Donegal, Ireland is helping women furthest from the jobs market return to employment, undertake training or become self-employed. Women's Integration Skills and Employment (WISE) provides a range of free services that give women of all ages the skills and confidence they need to get into working life and earn a living. The project has helped around 70 women into employment and around 60 are taking accredited training courses.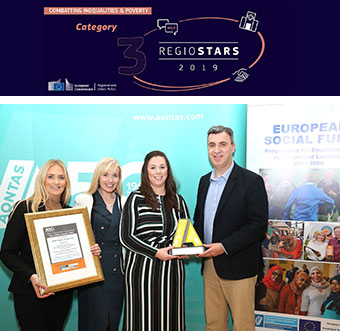 The WISE project won the National Adult Learning Organisation's The Star Awards 2019 first prize for adult learning initiatives that support sustainable employment – large organisations. ©WISE
" I am proud to be part of this project helping women access their full labour market potential. We are delighted with the results from the short courses some of the women undertake to improve their confidence. Being a part of a women's journey back to employment and seeing them blossom is truly rewarding and this is all thanks to the EU funding that we receive. "
Each WISE client is assigned a dedicated personal employment adviser who provides practical support such as helping to write effective CVs and brushing up on interview skills. The advisers offer guidance on accessing suitable training and education opportunities and advice on becoming self-employed. Building confidence and motivation are priorities, as many of the clients have anxiety issues or find it difficult to communicate outside their home environment.
More than 280 women have accessed WISE services. Around 70 have gone on to find a job, and eight others have unlocked their entrepreneurial talents to become self-employed. About 60 women have applied for self-accredited training courses. Of these, 30 have successfully completing such courses so far.
Personal development plans
WISE assesses any previous work experience and transferable skills. The beneficiaries then complete a personal development plan which highlights their goals and their favoured employment sector. The project screens positions with local employers to see if they are compatible with clients' abilities.
The advisers are with the women every step of the way, from conducting mock interviews for an upcoming position to providing help with understanding employment contracts. In addition, the WISE team will continue to support clients who get jobs for up to six months with regular texts, telephone calls and emails to discuss any issues. WISE can help clients access funding from public bodies for things like training and childcare support.
Helping vulnerable people
Many of the women accessing WISE services have no work experience and often lack the education and social skills to get a job. Those eligible for support are claiming one parent allowance, carer's allowance, disability allowance or widow's pension – or not claiming anything at all. Women in a job or who are receiving jobseeker's benefit are not eligible for help. WISE has helped women who were out of work for up to 15 years and who felt they had no skills and knowledge to offer.
Beneficiaries
"I spent almost 15 years at home, so decided 2018 was the time to reenter the workforce and give back to society. I was offered a role in the local Social Welfare Office. I am still there now, working fulltime. This would never have been possible for me to attain by myself without the WISE project. I would highly recommend WISE to any woman returning to the workforce."

Y Ui Bhaoighill, WISE client in work
"I believe that without the WISE project I would not be the person who I am today. I have secured myself my dream job, working in an office environment, and I am truly grateful to WISE for all their support. I would highly recommend any women to get in contact with WISE, as it will be the beginning of a bright future."

V McGlynn ,WISE client in work
Total investment and EU funding
Total investment for the project "Women's integration skills and employment" is EUR 599 518, with the EU's European Social Fund contributing EUR 299 759 through the "Employability, Inclusions and Learning" Operational Programme for the 2014-2020 programming period. The investment falls under the priority "Employment and labour market".