Mechatronics for SMEs: Commercialising great ideas
A wealth of innovative ideas in research institutes and universities have been turned into money-spinning ventures as a result of a cross-border knowledge transfer project between the Netherlands and Germany.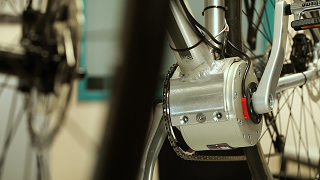 The project is helping transfer creative ideas into commercially-viable products. ©EUREGIO
" By creating networks of German and Dutch businesses, it is hoped that synergies will be created that will enable companies to find the expertise they are lacking on the other side of the border. A total of 380 consultancy and development projects were implemented as part of the programme, on the basis of which SMEs have launched 200 new technically innovative products. "
The "Mechatronics for SMEs" programme aims to ensure that creative ideas in the field of mechatronics, a cross-disciplinary fusion of mechanical, electrical and control engineering, are transferred from universities, technical colleges and consulting engineers and exploited commercially by small- to medium-sized businesses.
A particular focus of the programme is to counter the negative effect of the shortage of engineers in the cross-border area between Germany and the Netherland and to help break down national barriers.
Exchanging expertise
As part of the programme, businesses are made aware of the technical possibilities that mechatronics offers and put in contact with experts from the neighbouring country. Over 250 participating companies also received financial support for technological advice, feasibility studies and development projects.
Having benefited from cross-border collaboration with Dutch or German mechatronics service providers, the businesses then carried out their own development project or built a prototype. Among the research ideas that have benefitted from the programme are the refinement of technologies to make machines more user-friendly for operators and to make production methods more effective. Examples include a self-cleaning heat exchanger which can be used in swimming pools to make substantial energy savings and a centralised heating control system to reduce energy use in homes.
Building future partnerships
The hope is that collaborations sponsored by the programme will be the starting point for numerous long-term partnerships in the future and will give rise to cross-border contacts, partnerships and professional networks that will continue after the project itself has come to an end.
Another aim of the project was to take positive action to tackle a shortage of skilled labour in the field of mechatronics in the Dutch-German border area.
Total investment and EU funding
Total investment for the project "Mechatronik für KMU" is EUR 18 371 790, of which the EU's European Regional Development Fund contributed EUR 7 277 395 from the "Netherlands-Germany" Interreg IV A operational programme for the 2007 to 2013 programming period.
Draft date
22/05/2015
Related themes
Contact
Managing Authority
Beneficiary
EUREGIO E.V.
Enscheder Strasse 362
48599
, Gronau
Deutschland
Web