Germany's Tierpark Berlin uses biochar to reduce waste and carbon emissions
Researchers at the Tierpark Berlin are using biochar technology to implement an environmentally friendly, in-house waste management system – one that could play an important role in fighting climate change.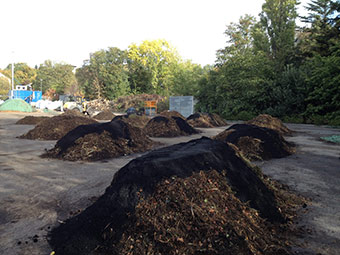 Compost with biochar in the foreground and carbonisation plant in the background. ©Prof. Dr. mult. Dr. h.c. Konstantin Terytze/Dr. Robert Wagner (2019)
" We are already receiving calls from private individuals who make enquires and even want to purchase biochar from us. Of course, this is not possible, as we do not sell biochar, but public interest is apparently already high. "
The use of organic waste, such as biochar, plays an important role in fighting climate change and reducing dependency on fossil-based resources. This is why the EU-funded CarboTIP project is researching and testing various applications of biochar-based technologies.
The research builds on work done via the EU-funded TerraBoGa project. Covering 160 hectares, the Tierpark is one of the largest landscaped animal gardens in Europe – producing nearly 8 000 m3 of manure, 155 m3 of wood, 72 m3 of green waste, and 16 000 m3 of foliage every year. Instead of throwing all this residual biomass into the waste stream, this project composts it to produce biochar, a charcoal used to enrich soil. This is used to fertilise the zoo's extensive grounds.
By demonstrating the successful use of biochar technology to improve the CO2 footprint of the zoo's waste management system, the project aims to create the blueprint for using the technology across Berlin – and beyond.
Testing production and applications
The project is currently testing different methods of producing biochar, along with investigating various potential uses. Biochar is a stable solid that is rich in carbon and that can remain active in the soil for thousands of years. By capturing and storing CO2 in soils, biochar helps remove carbon gasses from the air. It enables sustainable land use by recycling organic matter, which in turn improves the fertility – and productivity – of soils.
Researchers are experimenting with producing a biochar compost made of manure, green waste, and biochar. The project is testing the use of biochar for heat production, carbon sequestration, and gardening.
The goal of all these tests is to prove the benefits of biochar in lowering greenhouse gas emissions and improving soil nutrient levels and water and carbon retention.
Important results already achieved
Although the project is a work in progress, it has already produced a number of important results. Researchers proved that adding biochar to the composting process helps improve the hygiene of manure, reduces the greenhouse gasses emitted during the composting process, and mitigates the loss of nutrients from the soil. Furthermore, the project has shown that biochar compost optimises soil structure and quality and, as a result, has a positive effect on plant growth.
For the Tierpark Berlin specifically, the production and use of biochar not only closed off the residual biomass waste stream, but also significantly improved the zoo's CO2 balance.
Total investment and EU funding
Total investment for the project "CarboTIP - Research on the closing of natural cycles and climate protection using biochar" is EUR 1 108 667, with the EU's European Regional Development Fund contributing EUR 554 333 through the "Berlin" Operational Programme for the 2014-2020 programming period. The investment falls under the priority "Reduction of CO2-emissions".
Draft date
02/12/2019
Technical information
Fund
European Regional Development Fund
Programme
Berlin - ERDF
Thematic Objective
Environmental protection & resource efficiency
Programming period
2014-2020
Project duration
12/2016 - 01/2021
Total Investment
1 108 667 EUR
EU Investment
554 333 EUR
Contact
Managing Authority
Senatsverwaltung für Wirtschaft, Energie und Betriebe; Referat IV C "Europäische Strukturfondsförderung"
Martin-Luther-Strasse 105, 10825 Berlin
Beneficiary
FU Berlin
Malteser Str. 74-100
12249
, Berlin
Deutschland
Web