In Strasbourg and Kehl, the cross-border 'Maison de la Petite Enfance' crèche offers French and German children a bilingual education from their earliest years
This first Franco-German crèche bears witness to the desire for territorial cooperation in the Upper Rhine area. The region is investing in the values of integration and openness, notably through this multicultural project for very young children.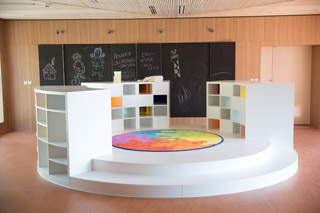 The Maison de la Petite Enfance accepts children living in Strasbourg and Kehl. ©J. Dorkel
" Thirty places are reserved for families living in Kehl and thirty places for those living in Strasbourg. Each city will decide on how they are allocated and the rates applicable to the families. The children will be looked after by a team of professionals with qualifications in the field of early childhood who understand and speak German and French. This initiative has been very well received by the numerous Franco-German couples in the region. "
Since April 2014, the Maison de la Petite Enfance in the heart of the Deux Rives district, located near the Pont de l'Europe bridge linking Strasbourg and Kehl, has been welcoming young children aged from 3 months to 4 years who live in Kehl or Strasbourg. These children are looked after by bilingual staff who get them used to understanding and using both languages. This joint initiative by the two cities, which was approved by the Strasbourg-Kehl Joint Municipal Council in May 2010, is a response to a shared lack of places for small children and a shared desire to encourage the pooling of resources to create cross-border projects.
Joining forces
A multicultural approach is the trump card of this Maison de la Petite Enfance. This takes concrete form not only in the bilingualism of its professionals but also in an open pedagogical approach that combines German and French educational precepts. The innovative architecture of the buildings allows the children to move freely between the various spaces and participate in a variety of activities.
Two banks, one city
This cross-border crèche is part of a wider-ranging approach that aims to create a true cross-border metropolitan area. It is an idea that takes concrete form in the joint development of the Deux Rives du Rhin district through expansion of the public facilities shared by the two cities – such as the creation of the Jardin des Deux Rives and the imminent opening of the Strasbourg-Kehl tram line.
Total investment and EU funding
The total investment in the 'Cross-border Maison de la Petite Enfance' project is EUR 3 360 000. The contribution from the European Regional Development Fund (ERDF) is EUR 1 680 000 for the period 2007-2013 as part of the 'Upper Rhine' operational programme.
Draft date
22/05/2014
Contact
Managing Authority
Beneficiary
Ville de Strasbourg
1, Parc de l'Etoile
67076
, Strasbourg
France
Web