Down-to-earth collaboration in France and England for low-carbon, sustainable houses
Researchers in Normandy in France, South-West and Eastern England are updating a traditional house-building material to construct modern, energy-efficient homes using local materials. The CobBauge project is optimising the mixture of earth, plant fibres and water known as 'cob', or 'bauge' in French, while improving production and construction methods. The project predicts that the resulting houses will meet modern building regulations, produce 38 % less CO2 than traditionally made buildings and offer affordable, sustainable homes.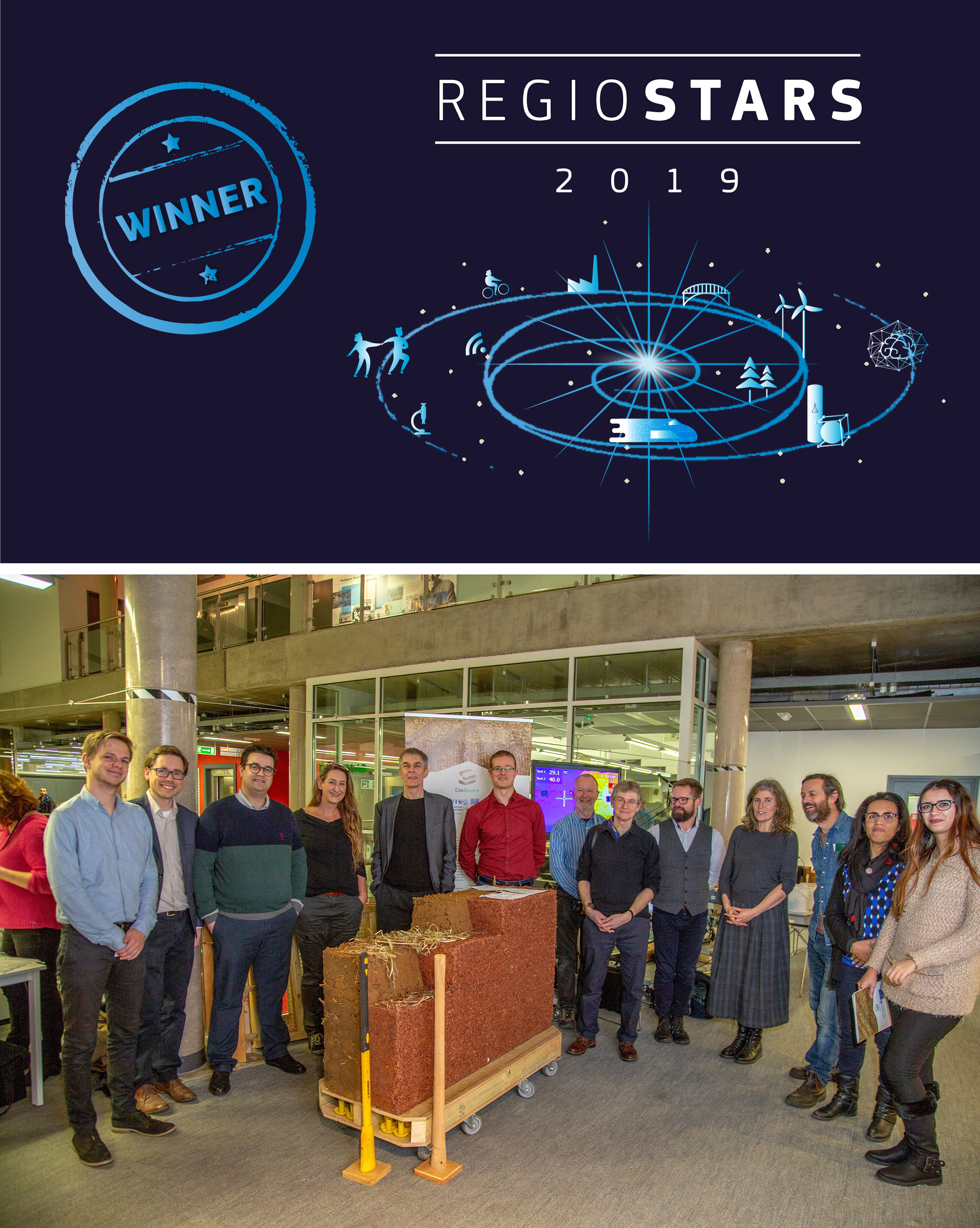 The CoBauge project team with the results of their work. ©The Optimisation of Cob Building Material, Research and Demand
" These architectural traditions and skill-sets will be lost if concrete and plastic become ubiquitous The CobBauge material gives a high-performance, low emission, low-embodied-energy future to a traditional building form, preserving and enriching regional cultural identities. "
CobBauge has identified four cob mixes that produce walls that comply with French and UK insulation, air-quality and stability requirements. It has developed a labour-and time-saving manufacturing technique, started to construct demonstration buildings and drawn up a directory of building professionals interested in using the modernised cob. Once the technique is finalised, it will provide affordable low-carbon homes, jobs in sustainable housebuilding in rural, often low-income areas, and preserve the cultural heritage of an ancient building tradition.
Low-carbon buildings
Picturesque earth-based houses are a feature of rural landscapes in many parts of the world. They could also help European regions to meet EU targets to reduce energy use by 20 % of 2012 levels by 2020, reducing CO2 emissions.
The savings are possible because cob buildings use much less energy than their conventionally constructed equivalents. In general, building and construction uses 40 % of generated energy in Europe. However, cob homes are usually built from local earth and plant fibres, including agricultural waste, which can save up to four tonnes of CO2 per house in transport costs and is much less carbon-intensive than concrete, brick and plastic building materials.
A house built with its modernised cob can be heated using less energy than a conventional house, according to the project researchers. Finally, its materials can be recycled into new buildings to reduce carbon emissions from materials manufacturing and to contribute to a more circular economy.
An ancient technique for today
To produce the updated cob, CobBauge researchers tested 20 different mixtures of earth and plant fibres from the project regions. They chose the two best-performing mixtures from France and the United Kingdom to ensure local production, then optimised the distribution of mud and fibres in walls to enhance the insulation, stability and indoor air quality of future CobBauge buildings.
A faster wall production process developed in the project speeds up construction, saving costs. Specially designed frames support the wall pieces while they dry, which helps them to lose moisture more quickly during production.
In 2020 and 2021, researchers plan to scale up from building small test structures to constructing two full-size prototype buildings, one in France and one in the United Kingdom. These will ensure that the material works in different climates, is affordable and produces healthy, attractive homes.
Local communities are part of the project's long-term plan. CobBauge intends to encourage construction companies and other stakeholders to build up to 1 500 houses using the modernised material and methods within 10 years after the project ends. The researchers estimate that these houses will save EUR 11 million in construction, energy and materials costs compared with 1 500 traditional houses over their lifetime, and will eventually be cheaper than similar passive houses.
Beneficiaries
"Cob is a traditional building material technique – just using earth and plants, feet and hands. We've shown that it can produce surprisingly modern buildings using local resources, beginning here!"

François Streiff, architect, Parc naturel régional des Marais du Cotentin et du Bessin
"A long-term outcome will be for affordable, sustainable housing to be made available for all, promoting community health and cohesion, and enhancing belonging."

Anthony Hudson, founder and director, Hudson Architects
Total investment and EU funding
Total investment for the project "The Optimisation of Cob Building Material, Research and Demand" is EUR 4 097 365, with the EU's European Regional Development Fund contributing EUR 2 827 182 through the "Interreg V-A France-United Kingdom (Manche/Channel)" Operational Programme for the 2007-2013 programming period. The investment falls under the priority "Low-carbon economy".
Related themes
Contact
Managing Authority
Norfolk County Council, Economic Development and Strategy
County Hall, Martineau Lane, Norwich, NORFOLK, NR1 2DL
Beneficiary
University of Plymouth
Roland Levinsky Building, Room 302 - Drake Circus
4 8AA
, Plymouth
United Kingdom
Web