Opening its doors to immigrants: integration is all about meeting others
Through its various activities, a family centre for immigrants near Helsinki enables new arrivals to better understand Finnish society and if necessary, receive psychological assistance and advice.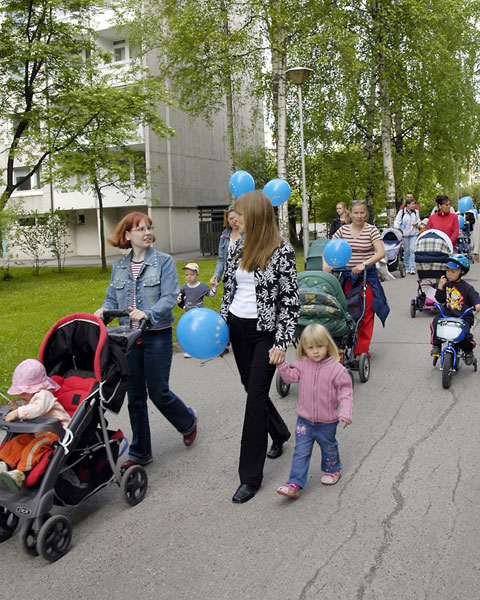 European Party at the Hakunen Family Centre: immigrants are an advantage for European diversity. ©European Party at the Hakunen Family Centre: immigrants are an advantage for European diversity.
Context
The challenge posed by the integration of foreigners faces most European countries, including Finland, which has not been a traditional destination for emigration from the South. But what exactly does the broad, or even vague concept of integration mean? The town of Vantaa, near Helsinki, has tackled the question head on, with the support of the European URBAN II programme, by creating a Family Centre for immigrants. This centre offers families various activities to introduce them to the society which they have joined without any knowledge of its customs, codes or even language. In other words, without the keys. Finding out about the host society is above all about meeting its members. The approach in fact works both ways, Finnish people also have a lot to learn about these foreigners alongside whom they are living but never meet.
The initial idea was also and above all to have a place, a shared hall where immigrant families could receive practical support long before difficulties began to build up, particularly with regard to their children's education. These difficulties were primarily due to unemployment but also isolation, particularly of women who remain shut up at home with practically no other contact than their immigrant compatriots.
The need for ongoing participation
Activities are undertaken on a voluntary basis but require a commitment and regular participation. Participants sometimes arrive by their own initiative, sometimes they are pointed in the direction of the Hakunen Centre by a pharmacist, a nursery or a social worker. Childcare is organised for the duration of the activities. The team of staff at the Centre is made up of teachers, nursery nurses, social workers, psychologists and nurses. The supervisory institutions are the City of Vantaa and the Ministry of Health and Social Affairs.
Jukka-Pekka Sorjonen, in charge of the URBAN II Vantaa programme - which covers a range of diverse projects including the Family Centre – states that "as usual, demand for this type of action is greater than the available resources". One of the difficulties encountered at the outset was the location of the Centre. Owing to the NIMBY effect (Not In My Back Yard), the opening of a family centre for foreigners did not meet with approval from all quarters.
Once this obstacle had been overcome, it was important to ensure that people from all origins were made to feel welcome, as Mr. Sorjonen points out: "We had to strike the right balance between the various groups of immigrants. One single nationality can not monopolise the family centre. People from all ethnic backgrounds have to feel that they are welcome."
Results
In 2005, some 1 050 immigrants and 1 200 people of Finnish origin took part in activities at the Hakunen Centre. Established in 2004 for two years, the project continued in 2007 owing to its success which is notably explained by the variety of activities on offer: physical education, "family café", a youth club, Finnish language classes, conferences, etc. The Centre also plays an important role by providing psychological assistance to bring parents and adolescents closer together when relations have broken down and even in cases of depression. Lastly, it enables parents to find their bearings: they are kept informed about the services available to them, from the nursery to the library and play areas for children. Mr. Sorjonen considers that the experience can be transferred to most other European countries.
Draft date
01/08/2006
Related themes
Technical information
Programme
Operational Programme 'Southern Finland'
Thematic Objective
Promoting social inclusion & combating poverty
Programming period
2007-2013
Total Investment
210 000 EUR
EU Investment
57 000 EUR
Contact
Managing Authority
Beneficiary
City of Vantaa
Centre for health and social services in the Hakunila sector