A sensory solution to efficient urban parking
A new sensory system for detecting parking spaces has been developed as part of an innovative project to cut fuel consumption and reduce traffic density in Barcelona, Spain.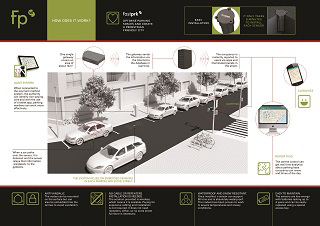 Cooperation was essential to developing this innovative solution to outdoor parking in Barcelona ©Worldsensing SL
" The key driver behind the success of this project was the market-driven approach taken by the start-up, combined with the technological capabilities of the innovation centres. The fact that the project was short and focused – and included a pilot scheme – was also crucial to achieving successful results. "
The system is based on a wireless sensor network installed in each car park. The sensor is able to detect whether parking is free or busy, and sends information to a central server via internet. Users can then easily see where available parking spaces are located, and are guided to the nearest available space.
Improving the urban environment
The XALOC system will improve traffic management in urban areas by reducing what is known as "agitated traffic", which is caused by drivers circulating and looking for a place to park. This will allow for a substantial improvement in circulation fluidity, and contribute to effective reductions in pollution.
In fact, research has shown that XALOC reduces the time taken to find a parking space by between five and seven minutes.
The innovation also means that city councils will be better able to monitor and manage parking spaces by receiving real time information 24 hours, seven days a week. Parking spots can be optimised, increasing occupancy and generating more local revenue.
Sensors have even been designed to make them resistant to cleaning and even potential vandalism.
Effective public-private cooperation
The scheme was made possible thanks to cooperation between technology start-up Worldsensing (founded in Barcelona in 2008) and two local research institutions: the Autonomous University of Barcelona (UAB) and the Telecommunications Technology Centre of Catalonia (CTTC) Foundation.
A pilot project was carried out at the UAB campus, before being implemented in the Smart Zone of Sant Cugat del Vallès.
Worldsensing has since gone on to become a market leader in sensory products, deploying the XALOC application in cities like Moscow, Castellfranco del Veneto, Dubai and Montreal. Key customers are Russia and China, with over 20 000 installed sensors to date.
The project has demonstrated how strategic investment and targeted public-private cooperation can have a major positive impact in local job creation and talent development.
Total investment and EU funding
Total investment for the project XALOC (Sensor networks for managing public parking and location) is EUR 289 153, with the European Union's European Regional Development Fund contributing EUR 30 740 through the Catalonia Operational Programme for the 2007- 2013 programming period.
Social media
Related themes
Contact
Managing Authority
Beneficiary
Worldsensing
Carrer Aragó, 383
08013
, Barcelona
España
Web