A hub for innovative plastic technology in the Netherlands' Drenthe region
To boost the development of a sustainable plastics and bio-based economy in the Netherlands' Drenthe region and surrounding areas, the Stenden Polymore Research & Education (Stenden PRE) project brought together academics, businesses and the public sector to create a specialised knowledge and business hub.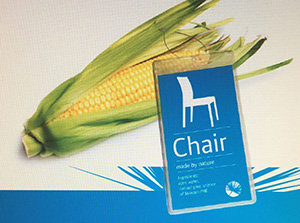 Thanks to the work being done by the Knowledge Hub Sustainable Plastics project, someday the plastic chair you are sitting on could come from such crops as maize. ©Roelof Jansma
" Drenthe is a superb location for high-value bio-based developments and the ideal region for the development and scaling up of new bio-based products. We put applied research into practice and develop new knowledge in the chemical, food and pharmaceutical industries. And this impact extends beyond Dutch borders as Drenthe is an international cradle for bio-based innovation and applications. "
The shift from using fossil fuels to sustainable resources can lead to new market opportunities for companies. Knowing this, the project created a knowledge hub on sustainable plastics called Stenden PRE. The hub supports plastic technology clusters that are committed to develop sustainable innovations for producing, using and recycling plastics.
As a result of the project's work, Drenthe has established itself as an international cradle for bio-based innovation and applications. Here one can find several successful spin-off initiatives and plastic technology start-ups that were launched with support from the project's initiative.
Plastics technologies as an enabler
The Drenthe region committed itself to build an economy and society based on innovation, sustainability and inclusivity. At the centre of this strategy are efforts to support the transition towards a bio-based, circular economy, one in which new sustainable plastics technologies will be developed for use by a range of businesses in the production of their products.
In support of this vision, Stenden PRE primarily focuses on applications and innovations in the field of sustainable plastics. By adding applied research into the mix, the hub successfully consolidates the regional plastic sector's innovative strength, which in turn is the foundation for the launch of specialised plastics companies.
To ensure this sustainable plastics regional hub has the talent and skills required, Stenden PRE has also developed an advanced educational and training programme in the field of plastics technology. The programme includes the launch of a professional Masters programme and ways to improve cooperation between senior secondary vocational programmes and professional education programmes. The hub also organises in-house training and internships within businesses.
A catalyst for sustainable development
Stenden PRE is a catalyst for sustainable development, open innovation and co-creation, serving as the launch pad for numerous spinoffs. One example is GreenPAC, an open innovation centre for the incubation of plastics-based start-ups. Other spin-offs have created the world's first bio-composite folding bridge at a local zoo and sustainable boats built out of biopolymers and new bio-based plastic fibres for 3D printing. The Stenden PRE hub has also attracted an array of plastic-related SMEs, international companies, R&D projects, academic consortia, conferences and cooperatives to the region. An online database (www.stendenpre.com) has been created to share results.
The project has directly created 18 full time jobs, and an estimated 200 more are expected to be indirectly added via the private sector. As a result of a new Masters programme in Polymer Engineering, the region is also benefiting from a high level of specialised knowledge. Last but not least, over EUR 750 000 in public and private investments has flowed into the region.
Total investment and EU funding
Total investment for the project "Knowledge Hub Sustainable Plastics (Stenden Polymore Research & Education, Stenden PRE)" is EUR 2 133 700, with the EU's European Regional Development Fund contributing EUR 100 000 through the "North Netherlands" Operational Programme for the 2007-2013 programming period.
Draft date
29/03/2017
Social media
Related themes
Contact
Managing Authority
Beneficiary
Stichting Stenden Hogeschool (Stenden University) a.i. Province of Drenthe
Westerbrink 1
9400 AC
, Assen
Nederland
Web