A collective approach to transparency
Although European citizens are benefiting from the EU's various funding initiatives on a daily basis, whenever public funds are involved public scrutiny tends to intensify – and Lithuania is no exception. Eight organisations founded FIREFLIES, which encourages EU-funded projects to incorporate transparency into their public reporting procedures.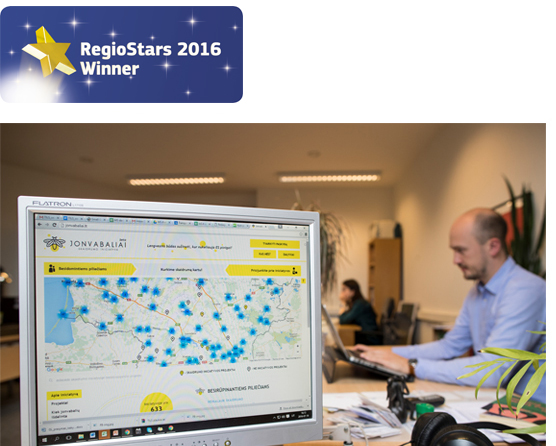 Jonvabaliai: a Lithuanian transparency initiative that encouraged the presentation of more information about the use of EU funds. Here, Sergejus Muravjovas, executive director of Transparency International Lithuania, works at his desk in Vilnius, Lithuania. On the left-hand side the computer monitor shows the Jonvabaliai.lt website. RegioStars 2016 ©Associated Press
" FIREFLIES is a voluntary initiative that shows how EU money is spent in an understandable manner. It does this by encouraging the recipients of EU funded projects to tell the public what they did with the funds and how they went about ensuring they'd been put to good use. By joining the initiative, these organisations helped set the transparency standard for others and showed they understood the value of making an extra step and becoming a good example. "
According to at least one public opinion poll, less than half of Lithuania's population is satisfied with the transparency of how EU funds are allocated. In fact, the issue of transparency – and the public's misperception of it – consistently ranks as one of the biggest challenges for EU-funded projects.
To reverse this trend, the European Social Fund-backed FIREFLIES project took the issue of transparency out of the hands of EU authorities and placed it into the hands of the projects themselves – and citizens.
Sharing responsibilities
FIREFLIES tackled the problem by decentralising the reporting process, allowing project managers to directly show the public how they use EU funds. This meant they could promote the benefits of their work directly to the public, and the public could see first-hand how EU funding was being implemented – thus removing one of the major barriers to public trust.
At the centre of this approach was the formation of a voluntary coalition of social partners and opinion leaders operating under the name FIREFLIES – a name symbolic of light, transparency and inner energy – who work directly with project managers to encourage them to be more open with how they use EU funds.
To ensure project managers participated, FIREFLIES created a process that was easy to use. Via a website (www.jonvabaliai.lt), project managers can voluntarily submit information about project results, prices, public procurements, stakeholders, risk management practices, etc. The more information provided, the more 'transparency fireflies' they receive. When a user visits the website, they see a map highlighting all EU-financed projects, with each project's number of fireflies being fully visible – giving them a clear visual understanding of how transparent a project is.
Changing public opinion
The project is already seeing positive results. In less than two years, more than 630 project managers have joined and over 35.5 thousand people have visited the site. Even more impressive is the impact the project has had on public perception. For example, the number of residents who said they have 'sufficient' or 'rather sufficient' information available for them to evaluate the transparency of how EU funding is being used increased from 36 % to 62 %. Those reporting that they believe the use of EU funds is either 'transparent' or 'rather transparent' also saw a large increase, growing from just 28 % to nearly 51 %.
Total investment and EU funding
Total investment for the project "Transparency Initiative Jonvabaliai (FIREFLIES)" is EUR 58 873, with the EU's European Social Fund contributing EUR 50 042 through the "Technical Assistance" Operational Programme for the 2007-2013 programming period.
Draft date
13/10/2016
Related themes
Contact
Managing Authority
Beneficiary
Ministry of Finance of the Republic of Lithuania
Lukiškių gatvė 2
01512
, Vilnius
Lietuva
Web