TelePrometheus: transforming care for those in intensive care units
Better training can help professionals in Intensive Care Units (ICU) avoid errors in treatment – which can have very serious consequences. Teleprometheus brings information technology and health care together, allowing ICU professionals in Greece (Crete) and Cyprus to follow short online courses and find information at the touch of a screen.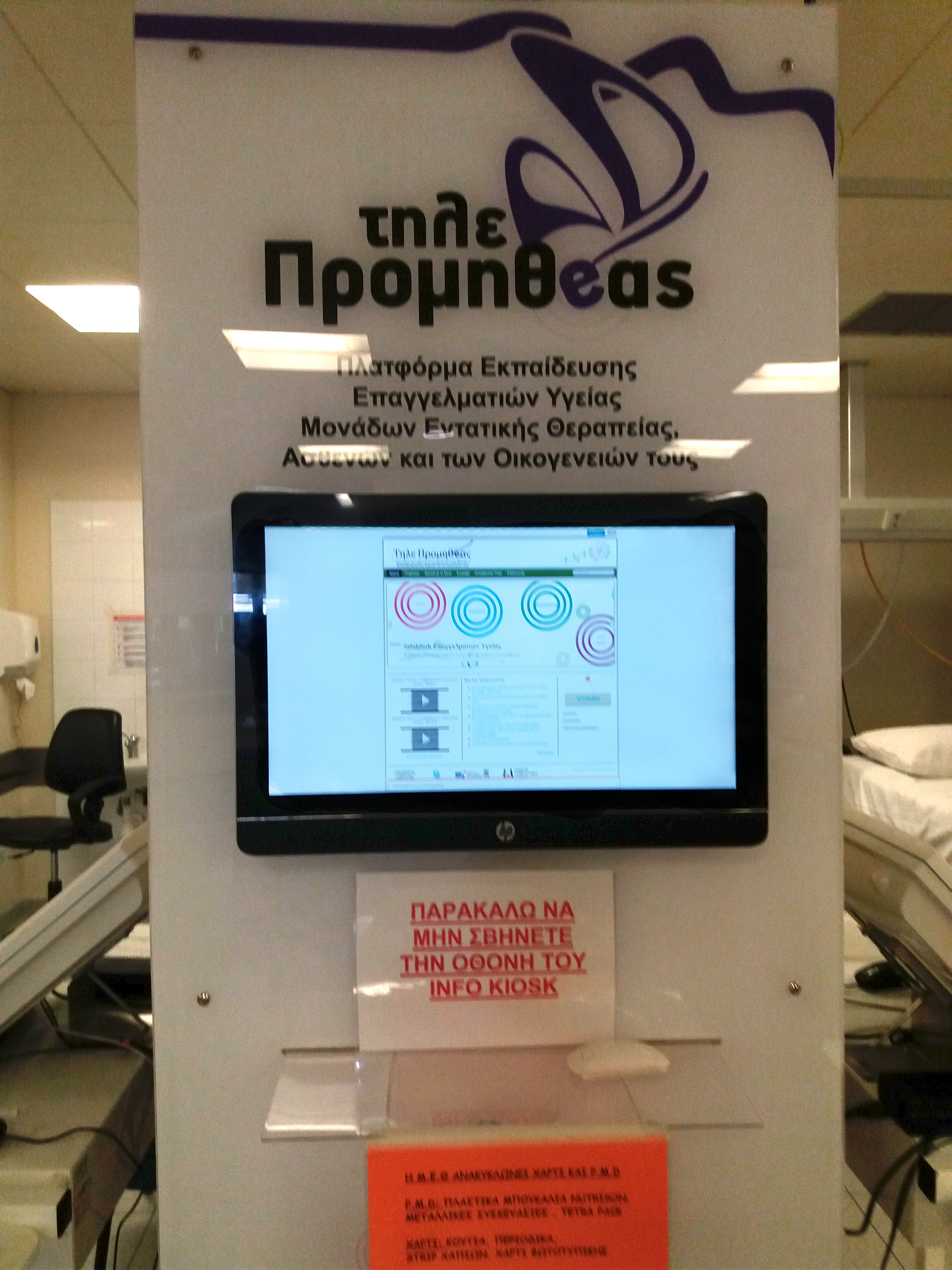 Teleprometheus: intensive care professionals can access information readily, using touch screen info-kiosks. ©Dr Theodoros Kyprianou
" Teleprometheus is a novel tele-education, lifelong-learning platform that was developed for healthcare professionals, patients and their relatives. Teleprometheus brings learning and sharing processes to intensive care units, while it is also used to build communication channels with healthcare experts and medical centres abroad. "
Training in demanding professional environments, like in an ICU requires the combination of theoretical knowledge, practical skills and the integration of information technology (IT) into clinical practice under extreme and stressful conditions.
The Teleprometheus platform gracefully integrates knowledge, information technology and health care together, enabling professionals to access short online courses and find information readily in the ICU premises, using the touch screen info-kiosks located inside their working environment.
The project progressed beyond the ICU establishment, offering important knowledge information and training to patients' family members in regards the initial management of life-threatening conditions and also to the caregivers of patients who survive ICU treatment with some sort of disability.
Through careful project management among Greek and Cypriot partners, a common, open e-access platform was developed to train both medical professionals and patients. The first step involved the determination of both clinical and technological needs and the decision making with regards the educational resources that should have been developed.
Training professionals
The project aimed to enrich the working environment for healthcare professionals with effective and readily available and easily accessible information and knowledge, enhance distance-learning and train patients and their families. To achieve this, a technological infrastructure was built, using state-of-the-art technology and training methodologies.
Teleprometheus' most important services are:
a website for health professionals, patients and relatives
professional learning management system
management and search educational and information material
teleconference system (virtual classroom)
training rooms with state-of-the-art technology for education Infokiosks – in-house interactive computers with easy navigation
on-demand multimedia training material (audio/ video)
Once ready, the platform was rolled out with training provided to all staff members at Nicosia General Hospital and Heraklion General Hospital.,. The fact that it has become recognised by health senior practitioners as a valuable tool of information is a clear indication that the new system is making a difference to health professionals and to those that they care for, says Dr Theodoros Kyprianou, the project's coordinator.
Some 250 healthcare professionals at Nicosia General Hospital and 150 healthcare professionals at Heraklion General Hospital have benefitted from this project. Many others had the opportunity to participate online. As a result, the quality of care improved not just on a quantitative basis, but also on a qualitative basis with regards to the treatment outcome, says Dr Kyprianou.
The improvement was also documented by an international project, funded by the European Commission's health directorate, which focused on quality control and patient-safety monitoring. The training is relevant to a wide range of healthcare professionals, including doctors, nurses, physiotherapists, dieticians and psychologists.
Reaching patients and families
One of the main objectives of the project was also to inform and train patients and their families. Relatives and friends are, understandably, distressed when a loved-one is hospitalised in the ICU. The platform helps them by providing information about the structure and activities of the unit, medical terms and names of medical devices, as well as information about common ICU diagnoses.
Well informed patients and family members help to bridge the communication gap between healthcare professionals and relatives and also it has proven to save vital time. Educating patients and their families on these matters, improves post-hospital care, particularly during the critical phase of rehabilitation and reintegration into the community.
Total investment and EU funding
Total investment for the project "Teleprometheus - e-Educational Platform for Intensive Care Unit Health Professionals, Patients and their Families" is EUR 650 985, with the EU's European Regional Development Fund contributing EUR 520 788 through the "Greece-Cyprus" Operational Programme for the 2007-2013 programming period.
Draft date
07/07/2016
Social media
Related themes
Contact
Managing Authority
Intermediate body
Joint Technical Secretariat of the Cross-Border Cooperation Programme 'Greece – Cyprus' 2007-2013
Beneficiary
Lead Partner: Nicosia General Hospital
Beneficiary
Heraklion General Hospital
Beneficiary
Open University of Cyprus