Bulgaria's capital expands metro network, reducing congestion and benefiting travellers
Having opened in 1998, the Sofia Metro has expanded in recent years thanks to a series of EU-funded projects. Now, a third line is being added. The goal is to make the metro Sofia's main transport system, reduce congestion in Bulgaria's capital and improve connections with other European, national and local transport modes, particularly railways.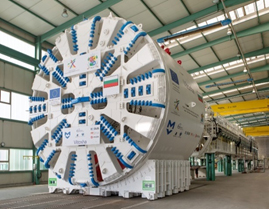 The Tunnel Boring Machine ©The Tunnel Boring Machine
" We are faced with many challenges. The route passes under rivers, two functioning metro lines and under busy boulevards and crossroads that cannot be closed entirely due to city traffic. We have therefore decided to use a modern technology used in Europe in the last years and drill using a 1600 tonne Tunnel Boring Machine (TBM). "
The first step in the expansion was the construction of a 6.5 km section of line 2, closely followed by a 4.2 km extension of line 2 and a 2.5 km extension of line 1. Both extensions were completed in 2012 and helped connect Sofia's large residential areas with the city centre.
Further extensions were made to line 1 to connect Sofia International Airport and the Sofia Business Park to the Metro. These opened in 2015. Lines 1 and 2 have a total length of 40 km and 35 stations. Work has now begun on the first 7.8 km stretch of line 3.
Rising population and congestion
The extension of Sofia's Metro's lines 1 and 2 was a response to an increasing population and car ownership, and resulting congestion. The 6.5 km stretch of line 2 connects the Nadezhda overpass with Cherni Vrah Boulevard. It includes seven stations: Knyaginya Maria Luiza, Central Railway Station, Lavov Most, Serdika II, National Palace of Culture, European Union and James Bourchier. Tunnels pf 4.4 km in length were also built.
Time saved by faster journeys was estimated at 19 300 hours a day, equating to annual savings of EUR 35.27 million. The link made it possible to cut public transport fleets by 30 trams and 52 buses, saving the city about EUR 3.11 million a year.
Work on the 4.2 km extension to line 2 between Obelya and Nadezhda overpass included construction of the Lomsko Shose, Beli Dunav, Nadezhda and Han Kubrat stations, a 600-space car park and access to Obelya depot. The 2.5 km extension to line 1 from Mladost I station to Tsarigradsko Shose Boulevard comprised parking for 1 300 vehicles and two new stations: Mladost III and Tsarigradsko Shose. These extensions gave a further 190 000 residents easy access to the Metro. Funding was also provided for the purchase of 18 trains.
Easy links to the airport and business park
The third phase brought the airport and the business park within reach of the central business district. The 7.1 km section between Tsarigradsko Shose Boulevard and the airport added the Druzhba, Iskarsko Shose, Sofiyska Sveta Gora and Airport stations. On the 3.6 km stretch between Mladost I and the business park, the Aleksandar Malinov, Akademik Aleksandar Teodorov - Balan and Business Park stations were opened.
These three phases created around 3 500 jobs during construction, with nearly 1 000 more people hired to operate the services.
Line 3 — a new round to expand the network
In its first phase, line 3 will run from Valdimir Vazov Boulevard to Zhitnitsa Street and include eight stations. It will link the districts of Suhata reka, Hadzhi Dimitar, Krasno selo, Slaviya, Belite brezi, Lagera, Hipodruma with central Sofia and provide connections to Lyulin, Mladost, Obelya, Nadezhda, Lozentets and Druzhba via lines 1 and 2. The investment also covers the construction of a depot and the purchase of 20 metro trains. When complete, line 3 is expected to expand to a total of 16 km in length, with 19 stations, bringing the network to 56 km of lines and 53 stations by 2020.
Over half a million people a day now use the Sofia Metro and with completion of the first phase of line 3, this is set to rise by about 96 000. The reductions in travel times are expected to generate savings for the economy of over EUR 19 million by 2020. By diverting passengers away from other forms of transport, the new line should help to eliminate 90 000 tonnes of CO2 emissions a year, as well as cutting traffic accidents and transport maintenance costs, leading to additional savings of over EUR 8 million by 2020.
Total investment and EU funding
The extension of the Sofia metro system was one of the biggest transport projects supported by the EU in the 2007-2013 EU funding period. Under the Bulgarian transport programme EUR 486 million (EUR 212.5 million from the Cohesion Fund and EUR 273.5 million from the European Regional Development Fund) was allocated to three metro projects. EU co-financing from the ERDF for the Sofia Metro in the period 2014-2020 amounts to EUR 361 million. This equates to a total EU funding contribution of EUR 847 million for the construction of the Sofia Metro from 2007 onwards.
Draft date
19/01/2017
Social media
Related themes
Contact
Managing Authority
Beneficiary
Metropolitan JSC
121 Kniaz Boris І str.
BG-1000
, Sofia
България - Bulgaria
Web