Innovative system for building the perfect wooden façade
Hutter Holzindustrie GmbH, a small company in the alpine area of the Salzburg region, has developed a wooden façade from renewable materials that not only looks good, but is also highly durable, weather resistant, and of the highest quality.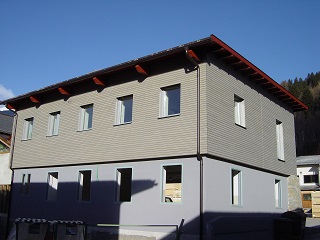 The newly built break area at Hutter sawmill features the FASZINO® cladding. ©Hutter Holzindustrie GmbH.
" Innovation Assistant DI (FH) Stefan Eder led the product FASZINO® to readiness for the market. The special clip for an invisible and non-surface damaging installation contributes significantly to the durability of the facade. Since the beginning of 2011 FASZINO® has already proved itself on several construction sites in Austria, Italy, and Germany, and we are convinced that FASZINO® offers an alternative to common facade designs, especially for architects. "
The result of the project is FASZINO®, an architecturally versatile and easy-to-install product. Its characteristics make it particularly suitable for surface treatments and coating, and turn it into an environmentally friendly and sustainable cladding.
Innovation for higher quality of an everyday product
Independent studies have proven the advantages of FASZINO® over traditional wooden cladding. In particular, its durability compared to other cladding is praised. As a result, the façade needs less frequent renovations, which results in a sustainable and economically reasonable solution.
The reasons for this durability lie in the material used, the treatment it receives, and the innovative fixing method. Hutter uses fir instead of spruce as a base material. Fir does not contain any resin pockets, which facilitates surface treatment and coating. Furthermore, the FASZINO® lamellas are produced knot free and finger-jointed, so that the length of the planks can be determined individually, within a maximum length of 6 m. Waste during installation is kept to a minimum.
The main innovation however lies in the way planks are fixed to the wall. Thanks to a newly developed clip system, no screws or nails are needed, and the wood is not damaged. This not only makes the façade look better, but it also protects the surface of the timber and coating. In addition, the installation is quick and easy, as the profiled lamellas just need to be clipped into metal brackets.
A sustainable local production
Timber used for FASZINO® grows in sustainably managed Austrian forests, and is 100 % PEFC-certified and processed at the Hutter sawmill. The Hutter Holzindustrie GmbH was founded in 1988, and currently employs around 30 people. The development of FASZINO® was supported by co-financing from the European Regional Development Fund and regional innovation assistance, enabling the appointment of an additional high-qualified engineer in the company.
Total investment and EU funding
Total investment for the project "FASZINO Innovation Assistance" is EUR 85 819, with the EU's European Regional Development Fund contributing EUR 21 454, through the "Salzburg" Operational Programme, for the 2007-2013 programming period.
Draft date
30/03/2015
Related themes
Contact
Managing Authority