Diversity4Kids teaches Austrian and Italian students cultural diversity in a playful way
The Diversity4Kids school project developed and used theatre, role-play, biographical methods and storytelling in order to promote social inclusion and a respectful and tolerant way of living together.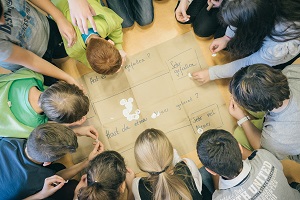 Students grouping together at a Diversity4Kids workshop. ©Students grouping together at a Diversity4Kids workshop.
" We received a lot of positive feedback from students and teachers and we increased the number of workshops twice. The children participated in an enthusiastic way and proved that our approach to learn diversity through play can be fun and a successful method. "
Over the course of the project, 100 interventions in schools in Austria and Italy reached over 1 800 students, imparting knowledge and openness regarding intercultural dialogue and diversity. The newly developed educational material was collected in a Diversity4Kids set and 500 of these boxes were distributed to schools, libraries and youth centres to sensitize children between the ages of 8 and 14 on the topics of exclusion and diversity.
With these two-hour long activities, the project aimed to improve the daily life in schools and prevent mobbing, discrimination and xenophobia. At the same time, the project targeted teachers in order to strengthen their competence in handling intercultural conflicts. As a result, the quality of life of different groups inside and outside of school is increased.
Learning by playing
Playing is an integral part of children's emotional, cognitive and social development and stimulates both thinking and feeling. It is therefore particularly well suited to lead children with different backgrounds to open up and empathise among themselves in an easy way.
The Diversity4Kids project has developed new educational material for teachers including improvisational theatre, a biography workshop, a method of creative writing and a number of short warm up exercises for groups. The project also featured a storytelling competition. The 11 most original "Stories of Diversity" were chosen by a jury and then translated into Italian and German, printed and recorded and distributed as part of the Diversity4Kids set.
Intercultural dialogue as a way towards social and economic success
Today's world is becoming increasingly globalised, and the presence of people with different cultural backgrounds is already a fact in many regions. Diversity4Kids sees a positive way of living and learning together, based on non-discrimination and tolerance, as the basis of a prosperous social, economic, and cultural development. By transmitting these values to participating children, it aims at helping them lead a successful life in a diverse, modern society.
Total investment and EU funding
Total investment for the project "Diversity4Kids: Learning intercultural dialogue and diversity at school through playful, interactive, and narrative methods" is EUR 320 881 with the EU's European Regional Development Fund (ERDF) contributing EUR 202 155 through the "Italy-Austria" Operational Programme for the 2007-2013 programming period.
Technical information
Operational programme
Operational Programme 'Italy - Austria'
Thematic Objective
Promoting social inclusion & combating poverty
Programming period
2007-2013
Project duration
01/2012 - 08/2014
Total Investment
320 881 EUR
EU Investment
202 155 EUR