Vista AR: Cutting-edge digital tools enhance visitor experience at cultural sites in UK, France
A project across the Channel region of France and the UK harnesses advanced digital technologies to help cultural heritage sites analyse visitor experiences and identify new business opportunities. The Vista AR project is developing visitor intelligence tools (VI) which are used in conjunction with the latest augmented reality and virtual reality (AR/VR) technologies to map how people move about, view and enjoy places like museums and cathedrals. All the information is stored on a cloud system which provides users with a low-cost way of accessing and analysing data.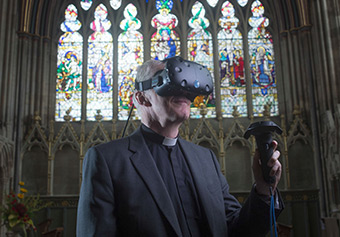 The Vista AR project is using augmented reality and virtual reality technologies to map how people move in, view and enjoy places like museums and cathedrals, with the aim of making them more attractive to visitors ©Vista AR
" The vision for the Vista AR project is to provide cultural heritage sites with digital innovation capabilities that can enhance the visitor experience. This includes the use of advanced technologies to understand the visitor experience and technologies to capture digital representations of cultural heritage artefacts and places. Digital representations facilitate immersive, interactive experiences for visitors that would otherwise be inaccessible. These new capabilities will support the development of new and innovative business models and provide a route to visitor growth and economic development. "
ICT experts in the project have created three types of VI tools to analyse visitor experiences. Voice recognition software provides a verbal record, while a text analytic tool records written information. Meanwhile, geospatial tracking provides insight into how someone moves around a building or exhibit.
Together the VI tools provide critical information that can be used to improve services, identify new patrons and create new revenue streams. They deliver data which can be used to introduce or improve digital interpretation initiatives. As part of the project, the VI technologies and a number of immersive AR/VR systems are being developed and trialled at six partner sites across the English Channel: Fougères Castle in Brittany; Exeter Cathedral in Devon; Jardins de Valloires in Picardy; the Undersea Museum in Lorient; the Botallack Mine in Cornwall; and England's South West Coast Path.
Valuable insights
Although the project runs until 2021, its technologies are already providing valuable results at the sites. For example, a pilot study at Exeter Cathedral used advanced eye-tracking technology to reveal which artefacts visitors looked at and for how long. The information can be used to change the design of exhibitions to make them more appealing.
Meanwhile, the text analytic tool is being used to show visitors' positive and negative sentiments. The results from this analysis have been made available on a digital dashboard which provides 50 visitor experience parameters. The likes of museum managers can use the data to make changes to facilities and tours.
Vista AR helps overcome the prohibitive cost of using AR/VR technologies. If individual sites were to obtain the equivalent technology and business model independently, it would cost them approximately EUR 1.15 million each. The project provides its heritage partners with these services at a fraction of the cost. The goal is get 150 organisations to use the Vista AR solutions within five years of project completion. If this is achieved, the return on investment would be 23 times the initial project investment.
Boosting numbers
Another objective is to help generate 80 000 additional visits to the six project deployment sites. This figure is calculated a year after the completion of the project.
Total investment and EU funding
Total investment for the project "Vista AR" is EUR 7 796 353, with the EU's European Regional Development Fund contributing EUR 5 379 483 through the "Interreg VA France-United Kingdom (Channel)" Operational Programme for the 2014-2020 programming period. The investment falls under the priority "Natural and Cultural Heritage".
Draft date
18/09/2019
Social media
Related themes
Contact
Managing Authority
Norfolk County Council, Economic Development and Strategy
County Hall, Martineau Lane, Norwich, NORFOLK, NR1 2DL
Beneficiary
University of Exeter
Business School
Rennes Drive
EX4 4PU
, Exeter
United Kingdom
Web