Subsoil mapping in the North Sea region to predict climate change impacts
A new method of mapping subsoil structures has been invented which reveals how the soil and groundwater beneath our feet responds to rising temperatures. This is enabling experts in The Netherlands, Belgium, Denmark, Germany and the UK to better assess how local areas will respond to climate change.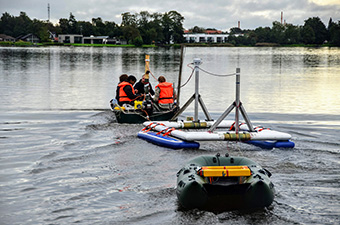 tTEM measurements on a lake. ©Esben Auken
" TOPSOIL explores the soil beneath our feet to understand how climate change will affect local areas. We can now predict whether an area is more likely to experience e.g. drought or flooding in the future. TOPSOIL integrates this knowledge into new solutions and governance models which have generated significant interest and uptake in the North Sea Region and beyond. "
Global warming in the North Sea Region could cause extreme droughts and flooding due to excessive rainfall and rising groundwater tables. Knowledge on how this will affect soil and groundwater at a local level is scant, making it hard to prepare for the impact these changes will have. The project is providing knowledge on this, enabling resilience for the worst consequences of climate change.
The project has developed new climate adaptation solutions. These are based on five challenges for groundwater management: groundwater flooding, saltwater intrusion and better management of soil conditions, understanding and management of the topsoil's capacity to break down nutrients and hazardous chemicals, as well as ways to store water in the subsurface to be used during periods of drought.
Leading technology
The testing, development and deployment of different investigation methods has been carried out to map topsoil layers and its properties in 16 pilot areas. This includes an electromagnetic tTEM system which can be used for detailed, three-dimensional hydrological and geological mapping of the subsoil layers. A system called FloaTEM reveals water quality and hydro-geological features beneath lakes, rivers, fjords or the sea. So far, 10 new climate change adaptation solutions have been demonstrated.
Another system called SkyTEM uses the mapping technology in helicopters. This has been completed in the provinces of Zeeland and Drenthe in The Netherlands and the Belgian polder area. A nationwide project called 'Freshem' will fly over the remaining parts of the Dutch coastal zones with SkyTEM.
Gaining ground
There are 72 enterprises and 46 research institutions involved in the project. These include water companies, public authorities, farmers and NGOs. The project coordinates with the US Geological Survey, which has conducted a number of surveys using the tTEM method in the Mississippi delta, while Stanford University is deploying this method in California.
TOPSOIL's preliminary results have led to significant improvements in climate-smart planning and management in the North Sea Region. In Lower Saxony, Germany, results have provided the frame for new long-term contracts with farmers on soil and groundwater management. The project has collaborated with other projects in the UK resulting in the delivery of more than 750 000 cubic metres of water replenished to the natural environment.
In the UK, the project is helping to streamline groundwater management and it is co-chairing a new national research group on water resources management. It presented its preliminary results at the Interreg Climate Change Network session organised as part of the UN Climate COP24 in Katowice in Poland and it also hosted a policy day in Brussels in March, 2019.
Total investment and EU funding
Total investment for the project "TOPSOIL" is EUR 7 342 220, with the EU's European Regional Development Fund contributing EUR 3 671 110 through the "North Sea" Operational Programme for the 2014-2020 programming period. The investment falls under the priority "Sustainable North Sea Region".
Draft date
29/05/2019
Technical information
Fund
European Regional Development Fund
Operational programme
Interreg TN - North Sea
Thematic Objectif
Climate change adaptation & risk prevention and management
Programming period
2014-2020
Project duration
01/2015 - 02/2020
Total Investment
7 342 220 EUR
EU Investment
3 671 110 EUR
CCI
2014TC16RFTN005
Contact
Managing Authority
Danish Business Authority, Managing Authority
Vejlsøvej 29, DK-8600 Silkeborg, Denmark
Beneficiary
Region Midtjylland
Regionshuset Viborg, Skottenborg 26, Postboks 21,
8800
, Viborg
Danmark
Web