REBUS: Making Europe's public buildings more energy efficient
Eight partners from eight countries are helping local authorities improve how they plan, implement and monitor renovations to make public buildings more energy efficient. The REBUS project is raising awareness and developing skills on energy-related issues among civil servants and other public sector staff. One goal is to give local authorities the knowledge needed to design an Energy Renovation Path (ERP) for public buildings.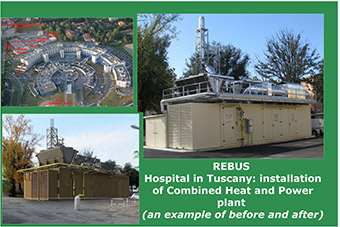 The REBUS project is making public buildings in eight European countries more energy efficient and creating awareness of this topic among civil servants ©REBUS
" Finding ways to use less energy and save money while providing better services for citizens - these are the main reasons why decision makers from eight European countries have been involved in Rebus. "
ERPs provide guidelines which can help local authorities to:
Raise awareness about potential savings and efficient use of resources;
Collect feedback and data on energy requirements in public buildings;
Select buildings for renovation; 
Draft tenders for those renovations that include energy efficient baselines, targets and monitoring activities.
The ERPs are developed using input from successful experiences gathered through the REBUS consortium and through stakeholder engagement, staff exchanges and regular virtual meetings. 
Building good practice
The project partners drafted a 'context analysis' to understand existing regional procedures for the renovation of public buildings. Based on these current positions, experiences and needs were identified. This analysis was used to inform the selection of good practices that showcase energy efficiency improvements in public buildings. 
For example, lead partner region Tuscany, focused on the 'RESHospitals' experience, which aims at creating zero emission hospitals by using renewable sources of energy, applying the most rational use of energy and by following eco-efficiency principles. Outstanding results in terms of energy savings and carbon emission reductions have been achieved in a number of local hospitals. In Hungary, a training programme for public sector employees has achieved good results in creating awareness of the need to save energy.
Action plans
The project's final step is to help participating regions develop their own plans, which can drive improvements to policy instruments. Building on lessons learned through REBUS's interregional activities, these plans outline the changes that must be made to improve policy, along with timeframes for work to be undertaken, who is to be involved in the process, and the costs and sources of potential funding. When drafting their plans, each region transfers and adapts good practices from other partner territories.
REBUS has spread the word about good energy efficiency practices through an intensive social media campaign and through more than 30 meetings organised in different EU regions. These activities have garnered interest in the project's activities from hundreds of stakeholders and public bodies keen to improve the energy performance of their public buildings.
Total investment and EU funding 
Total investment for the project "REBUS – Renovation for Energy Efficient Buildings" is EUR 1 701 557 with the EU's European Regional Development Fund contributing EUR 1 431 714 through the "Interreg Europe" Operational Programme for the 2014-2020 programming period. The investment falls under the priority "Low-carbon economy".
Draft date
22/03/2019
Related themes
Technical information
Fund
European Regional Development Fund
Operational programme
Interreg Europe
Thematic Objective
Support the shift towards a low-carbon economy
Programming period
2014-2020
Project duration
04/2016 - 03/2021
Total Investment
1 701 557 EUR
EU Investment
1 431 714 EUR
Contact
Managing Authority
Région Nord-Pas de Calais Conseil régional
151, Avenue du Président Hoover, F 59555 LILLE CEDEX, France
Beneficiary
Florentine Energy Agency - AFE
Viale Belfiore 4
50144
, Florence
Italia
Web