Opening doors for North Sea region SMEs in foreign markets
Built around a network of 19 business incubators and accelerators in six North Sea region countries – Denmark, Germany, the Netherlands, Norway, Sweden and the UK – the Lean Landing for Micro SMEs project helped small enterprises move into new European markets quickly and efficiently. The concept involved arranging meetings for SMEs with potential customers and partners from different countries so they could get rapid feedback on whether their products or services could be sold abroad. Meetings took place in the SME's country of choice and 50 % of their travel costs were refunded.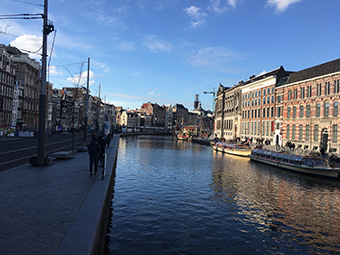 The Lean Landing event in Amsterdam, during which representatives of 23 companies from Denmark, Germany, Norway and the UK visited potential partners ©Jimmy Faustin Andersen
" We feel privileged to be working as part of a project which is challenging traditional methods of exporting, to make it quick and lean. It has been fantastic to be able to offer this to local and regional SMEs and see the successes so far. It is a very innovative project and great to see it get this recognition. It is fabulous to have won the award. This project has enabled us to form really strong relationships with our North Sea partners and to grow our reputation overseas for collaborative working with SMEs. "
Micro SMEs were able to join Lean Landing free of charge and get access to its accelerator and incubator network. This provided them with a support system and insight into business etiquette and practices in their target locations, allowing them to gather first impressions and make contacts. A platform containing information about SMEs looking to establish themselves in different countries was set up to help match companies with shared interests.
Applicants to Lean Landing first attended a screening meeting with their local incubator manager to assess their company's potential. Those accepted then attended further meetings to discuss their needs and have the chance to use the network to search for and contact prospective customers or partners. This was followed by face-to-face meetings with the customers or partners, workshops on local business laws and culture, development of an internationalisation strategy and, if all went well, the conclusion of commercial agreements.
Insufficient internationalisation support
Policymakers are becoming increasingly aware of the importance of SME internationalisation for job creation in Europe, but few of the programmes launched to support this process had proven effective, mainly due to a failure to secure the involvement of the right organisations in sufficient numbers.
Moreover, programmes of this type are typically based on a schematic and linear approach: SMEs first analyse market conditions and then design an entry strategy, which is subsequently implemented step-by-step. However, the entrepreneurial process is rarely linear. Instead, many successful small business owners rely on trial-and-error strategies.
An original solution
To address these challenges, Lean Landing designed a programme which was original in several respects: it represented a joint European effort which made use of the experience of incubators in several countries; it was based on sound knowledge of the methods most likely to result in entrepreneurial success; it was not focused solely on exports, but on partner-based internationalisation through knowledge sharing; and it targeted the early-stage internationalisation of micro rather than medium-sized SMEs.
In 2018, Lean Landing won the Grand Jury Prize at the European Commission's European Enterprise Promotion Awards. The project was covered in a report by European television news network Euronews, which looked at how it had helped MEPTEK, a Danish firm offering communication courses using virtual reality and tools such as 360º cameras, break into the UK market.
At one stage, the Lean Landing network was used by 273 firms, of which 146 had attended meetings abroad and several had found new customers or partners.
Total investment and EU funding
Total investment for the project "Lean Landing for Micro SMEs" is EUR 3 620 774, with the EU's European Regional Development Fund contributing EUR 1 706 257 through the "North Sea" Operational Programme for the 2014-2020 programming period. The investment falls under the priority "Thinking Growth – Supporting growth in the North Sea Region economies".
Draft date
29/05/2019
Social media
Related themes
Technical information
Fund
European Regional Development Fund
Operational programme
Interreg TN - North Sea
Thematic Objective
Competitiveness of Small and Medium-sized Enterprises (SMEs)
Programming period
2014-2020
Project duration
11/2015 - 06/2019
Total Investment
3 620 774 EUR
EU Investment
1 706 257 EUR
Contact
Managing Authority
Danish Business Authority, Managing Authority
Vejlsøvej 29, DK-8600 Silkeborg, Denmark
Beneficiary
Erhvervshus Sjælland
Fulbyvej 15
4180
, Sorø
Danmark
Web