Northern Ireland, Scotland, Ireland combine resources to better protect marine habitats
The EU-funded Compass project brings together the key marine research institutes in Northern Ireland, Scotland, and Ireland to deliver a coherent monitoring network to manage marine protected areas and species.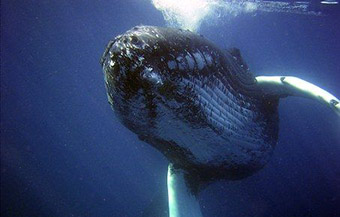 The Compass project is using a network of monitoring buoys and oceanographic monitoring stations to capture data about marine life, including whales and dolphins. ©Creative Commons
" The Compass project is co-developing marine monitoring programmes where trans-boundary monitoring has not previously been possible or coordinated. In doing so, Compass aims to deliver improved monitoring strategies for highly mobile protected species such as marine mammals and Salmonid fish and provide essential infrastructure for baseline oceanographic and ambient noise monitoring. "
Monitoring and understanding complex and sensitive marine environments require the collection of long-term data sets – a process both challenging and expensive. Although new technologies help researchers access such data, leveraging the full potential of these technologies requires an informed and innovative approach, which is where Compass comes in.
Specifically, by bringing in the expertise and experience of scientists from across the region, the project is building cross-border capacity for the effective monitoring and management of Marine Protected Areas (MPAs). Researchers are developing long-term monitoring strategies for highly mobile protected species, including marine mammals and salmon. Last but not least, it is providing the infrastructure needed for baseline oceanographic and ambient noise monitoring.
A network of monitoring buoys
At the core of the project is an innovative network of monitoring buoys dispatched across the region's seas. Each buoy is equipped with the latest oceanographic sensors, acoustic records, and advanced fish tracking technology. Marine monitoring organisations across the region use this network to capture important marine data. All data is structured in a standardised format and shared across the region, providing the basis for modelling programmes that will support the cross-border management of protected areas and species.
Integrated with the existing European oceanographic monitoring stations, the Compass network significantly enhances the region's marine observation and data management. For example, using this network, researchers have implemented a standardised approach for tracking mobile species. They have launched an array of new network-connected acoustic monitoring stations to investigate whales and dolphins. Furthermore, a number of new oceanographic parameters are being rolled out and tested via Compass, including ocean acidification sensors.
Sharing responsibility
By creating an opportunity for marine monitoring and research organisations to share expertise and information, Compass is facilitating the delivery of the environmental assessments needed to improve management of shared regional marine resources.
According to Compass researchers, this success would not be possible without the help of citizen scientists such as anglers who, for example, contributed greatly to delivering the fish capture and tracking programmes. Non-governmental organisations also contributed to the project's progress by sharing their input. 'When everyone gets involved in protecting our shared marine environment, everyone benefits,' says a Compass project researcher.
Total investment and EU funding
Total investment for the project "Collaborative Oceanography and Monitoring for Protected Areas of Species (Compass)" is EUR 7 726 441, with the EU's European Regional Development Fund contributing EUR 6 289 181 through the "Interreg V-A - United Kingdom-Ireland (Ireland-Northern Ireland-Scotland)" Operational Programme for the 2014-2020 programming period. The investment falls under the priority "Environment".
Draft date
21/11/2019
Related themes
Contact
Managing Authority
Special EU Programmes Body
7th Floor, 2 Clarence Street West, Belfast, BT2 7GP
Beneficiary
Agri-Food and Biosciences Institute
18a Newforge Ln
BT9 5PX
, Belfast
United Kingdom
Web