Hydrogen: North Sea Region produces fuel for the green transport of the future
Bringing together partners from Germany, the Netherlands, Norway, Sweden and the UK, the Hydrogen Transport Economy for the North Sea Region 2 project (Hytrec2) aims to stimulate an energy transition and clean economic growth in Europe and create a regional economy based on hydrogen (H2). To this end, it promotes use of electric fuel cell vehicles which run on H2 generated from renewable sources and helps businesses acquire the knowledge to deliver green transport.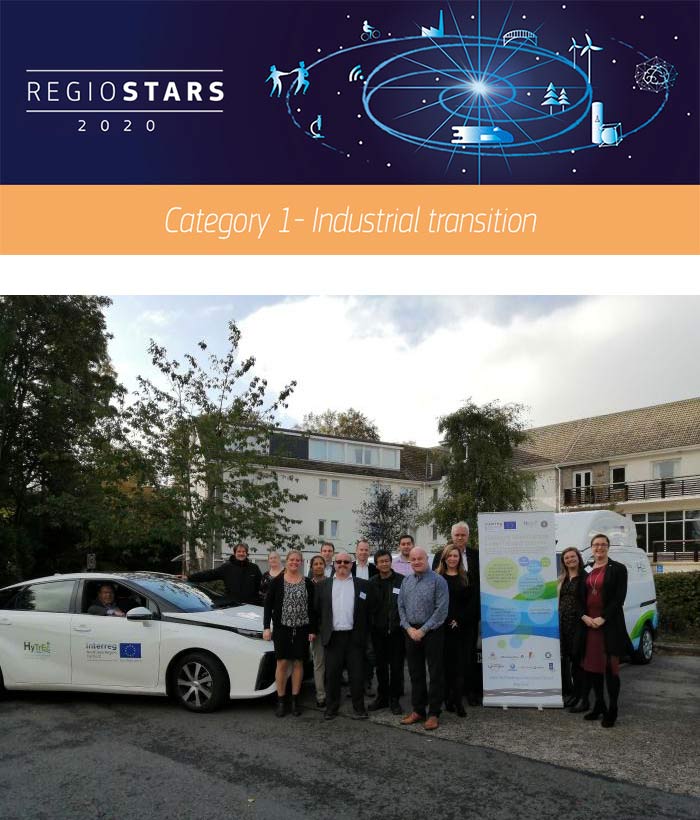 Hytrec2 aims to create a North Sea Region economy based on hydrogen ©Hytrec2
" Our project is producing renewable hydrogen for refuelling a variety of bespoke and innovative vehicles, including cars, vans and waste trucks. By offering hydrogen training and skills development alongside practical sessions for businesses interested in entering the supply chain, the project is stimulating a hydrogen transition across the North Sea Region. "
Hytrec2 has produced hydrogen from solar energy and tested over 30 hydrogen cars, vans, scooters, road sweepers and bin lorries, some of them built especially for the project. It has added hydrogen vehicles to car-sharing fleets to allow citizens and companies to trial them.
Events such as the project's Hydrogen Festival showcase the vehicles, while an app pinpoints the locations of refuelling stations across Europe. Training courses are offered to colleges and educational content, including videos demonstrating how to refuel a hydrogen vehicle and giving tours of refuelling stations, is placed online to widen access.
Reaching environmental goals
Achieving EU environmental goals will require significant renewable H2 use, especially in transport. Some 94 % of transport remains oil-based and the sector is the only one in Europe in which CO2 emissions are not falling.
Given their relatively long range, renewable hydrogen vehicles are a key clean transport solution. However, the ongoing debate over whether to develop vehicles or infrastructure first is causing market failure. Hytrec2 addresses this by delivering both.
As well as producing hydrogen from solar power, the project presents the business case for generation from offshore wind energy and hydroelectricity. This has attracted interest from international energy companies.
Extensive testing of the vehicles developed under Hytrec2 – some containing parts created by firms never previously involved in the hydrogen supply chain – has shown them to be a highly effective means of cutting CO2 and nitrogen oxide emissions.
Available for free download, the app, developed in partnership with H2Mobility, supports hydrogen vehicle use through functions that give updates on refuelling station availability and fuel consumption, and allows for feedback. Operators from around the EU have agreed to their stations being integrated into the app, thereby creating a one-stop shop for hydrogen vehicle drivers and supporting development of a transnational hydrogen network.
Stronger supply chains
As strong supply chains with more firms competing for orders can reduce costs, Hytrec2 mapped the North Sea Region hydrogen supply chain. It presented the results at the week-long Hydrogen Festival in the UK, which gave rise to several business opportunities. The partners capitalise on each other's supply chains and look for opportunities to work with different H2 programmes.
Project data on hydrogen production, storage and distribution is compiled in good practice guides and made available to other regions to help them move towards net zero emissions. Data from vehicle testing and modelling is passed onto companies. With a trained workforce vital for widespread hydrogen deployment, the partners use their refuelling stations, set up with Hytrec2 support, for training sessions.
The activities have already had an impact. Use of Hytrec2 vehicles in carpooling has encouraged local authorities in Scotland to procure similar models. The bin lorries are being replicated in collaboration with the EU-funded Hector project, which is testing them across north-western Europe.
Total investment and EU funding
Total investment for the project "Hydrogen Transport Economy for the North Sea Region 2" is EUR 5 246 271, with the EU's European Regional Development Fund contributing EUR 2 197 940 through the "North Sea" Operational Programme for the 2014-2020 programming period. The investment falls under the priority "Promoting green transport and mobility".
Draft date
09/11/2020
Related themes
Technical information
Fund
European Regional Development Fund
Operational programme
Interreg TN - North Sea
Thematic Objective
Sustainable transport & removing bottlenecks in network infrastructures
Programming period
2014-2020
Project duration
01/2016 - 10/2021
Total Investment
5 246 271 EUR
EU Investment
2 197 940 EUR
Contact
Managing Authority
Danish Business Authority, Managing Authority
Vejlsøvej 29, DK-8600 Silkeborg, Denmark
Beneficiary
Aberdeen City Council
Marischal College
Broad Street
AB10 1AB
, Aberdeen
United Kingdom
Web