Helping creative and cultural SMEs from southern Sweden to export
The Southern Sweden Creatives project provided export assistance for small and medium-sized enterprises (SMEs) from Skåne and Blekinge counties working in the cultural and creative sectors. In addition, the project built capacity among relevant support organisations. Focusing on the film, television, digital gaming, digital media and design industries, the project enabled 129 companies, of which 51 were start-ups, to participate in 34 international activities such as fairs and festivals on 257 occasions. Some companies took part multiple times. The activities were related to seven different export markets.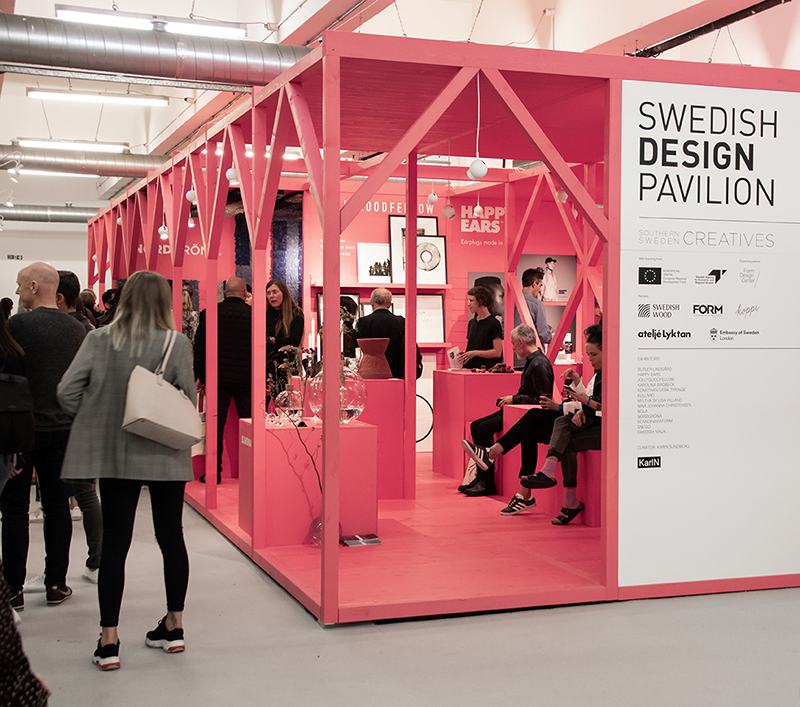 Southern Sweden Creatives in the Swedish Design Pavilion at the 2018 London Design Fair ©Invest in Skåne AB/Marina Jackler (2018)
" Southern Sweden Creatives was greatly appreciated by the actors it aimed to support, such as small and medium-sized companies in the cultural and creative industries. Project results in terms of concrete exports and internationalisation exceeded expectations. Cooperation partners from the project continue to work with similar initiatives today, long after the project has ended. "
Southern Sweden Creatives helped SMEs to analyse and gain knowledge of their target markets before exporting. It fostered networking and raised the profile of the region's cultural and creative industries.
Businesses that benefited include film and television production companies Productions Populaires, Solid Entertainment and Billberg Johansson Production; furniture and interior designers Superlab, Swedish Ninja and Kajsa Willner Studio; gaming firms Station Interactive and Divine Robot; and Nordgröna, which makes sound absorbers from moss.
The Creative Loop
A key element of the project was the formulation of methods to enhance SMEs' international exposure, details of which remain available on the project website. One example is the creative loop work process. It draws on lessons learned during the project to find ways of balancing the interests of organisers and financial backers of export promotion activities, including public institutions, while adding value to participating companies.
The creative loop sets out the need for a coordination body to mediate between project organisers, funding providers and companies, to ensure their goals are aligned. This body must be staffed with people who have insight into the target industry and strong communication skills, and who are trusted by the companies and public actors.
Moreover, the coordination body must have the flexibility to adapt project plans as required, based on continuous input from all players. Activities should be repeated to build on and transfer the knowledge gained.
Tips for boosting business
Southern Sweden Creatives drew up five tips to help companies boost their international business. The first is to get to know the target market by researching aspects like competitors, pricing, legal frameworks and customers, and checking that the right business model, supply chain and partners are in place to handle potential demand.
The second involves making a success of meetings by finding appropriate contacts, booking meetings well in advance, ensuring that promotional material is up to date, professionally presented and available in several languages, working with media influencers and following up on all meetings.
The third relates to establishing relationships to facilitate exports by keeping in touch with people from events such as fairs, connecting with individuals who can provide introductions to distributors, sales agents and prospective partners, and making use of bodies like chambers of commerce and embassies.
Of particular relevance for Swedish companies, the fourth encourages firms to capitalise on the large number of international fairs held in Sweden to make contacts from other parts of the world and from Sweden to increase global and domestic sales. Finally, businesses should take advantage of public-sector support and link their brands to Sweden's strong international reputation.
Total investment and EU funding
Total investment for the project "Southern Sweden Creatives" is EUR 1 958 000, with the EU's European Regional Development Fund contributing EUR 979 141 through the "South Sweden" Operational Programme for the 2014-2020 programming period. The investment falls under the priority "Jobs, Growth and Investment".
Draft date
06/02/2020
Social media
Related themes
Technical information
Fund
European Regional Development Fund
Operational programme
South Sweden - ERDF
Thematic Objective
Competitiveness of Small and Medium-sized Enterprises (SMEs)
Programming period
2014-2020
Project duration
01/2016 - 12/2018
Total Investment
19 858 000 EUR
EU Investment
979 141 EUR
Contact
Managing Authority
Tillväxtverket
Beneficiary
Tourism in Skåne
Dockplatsen 26
205 25
, Malmö
Sverige
Web