TR@NSENER: Transnational cooperation for a new energy model in southwestern Europe
The Tr@nsener project is developing and promoting a new energy production and consumption model for southwestern Europe. This is in response to the need to move from fossil-fuels to zero-carbon energy. It is creating a network of research institutions, large industry bodies, SMEs and regional/national industrial clusters and public entities to allow for information exchange and efficient collaboration on projects related to the energy transition.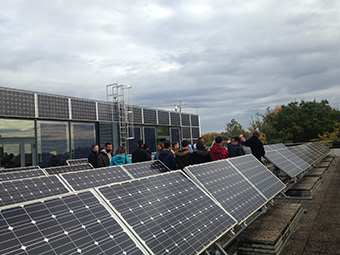 Solar panels on the roof of the ADREAM experimental building at the Laboratory for Analysis and Architecture of Systems in Toulouse, France ©Cecilia Hinojosa
" The most important achievement of Tr@nsEner project is the creation of a large transnational network of energy transition stakeholders. This network, based mainly in France, Spain and Portugal, allies academia, large industry, SMEs and regional/national industrial clusters and public entities. "
A transnational network in France, Spain and Portugal is linking academia, large industry, SMEs and regional/national industrial bodies and public entities that are involved in energy and technology transfer.
Workshops, summer schools and conferences have been organised to get participants to develop projects together and create contacts for future collaboration, the ultimate aim being to improve the efficiency of electrical systems in the region.
Stimulating innovation
Southwestern Europe faces exposure to climate change and related problems of energy production and use and the environment. To address this, the project has set three goals: stimulating innovation to encourage the replacement of fossil fuels with environmentally friendly options; promoting training and innovation capacity; and encouraging the establishment of companies and projects that will contribute to the energy transition.
The project began by examining the status quo, in order to identify best practices and to propose the use of high-performance energy-saving devices to institutional actors.
It is developing training content, including joint masters' degree curricula, ensuring co-supervision of theses and organizing summer schools, for students, researchers and companies. Meetings between public and private institutions, including universities, enterprises and research centres encourage collaborative projects. A technology platforms database also contributes to this.
Another of the network's major achievements is promotion of the energy transition to a wide audience, including general consumers, with conferences, promotional materials such as video clips and leaflets.
Conferences, workshops, summer schools
The project has held several workshops, conferences and summer schools to bring together the project participants to allow them to share ideas and discuss solutions.
An "Energy Transition" international summer school was held in Lisbon, Portugal in June 2018 to discuss topics including future cities, zero-energy buildings, and energy transition policies.
In May 2018, the project hosted a conference to discuss the incorporation of renewable energy sources into existing electrical transmission and distribution systems. It brought together academia, private companies and public entities. At a conference in Sevilla, Spain, that same month, participants discussed the changes that should take place in companies and society at large to foster innovation and entrepreneurship in the energy sector.
In June 2017, a "Smart Grids and Smart Cities" summer school was held in Barcelona, for academics, PhD and postdoctoral students, professionals and public representatives responsible for making decisions on urban development. The aim was to find ways for cities to use energy more efficiently and contribute to a low-carbon economy.
The project has resulted in the direct creation of three jobs.
Total investment and EU funding
Total investment for the project "European cooperation Network on Energy Transition in Electricity" is EUR 1 808 285, with the EU's European Regional Development Fund contributing EUR 1 356 214 through the "Regional Research and Innovation" Operational Programme for the 2014-2020 programming period. The investment falls under the priority "Research and Innovation: Promoting innovation capacities for smart and sustainable growth".
Draft date
13/03/2019
Related themes
Technical information
Fund
European Regional Development Fund
Operational programme
Interreg TN - South West Europe
Thematic Objective
Sustainable transport & removing bottlenecks in network infrastructures
Programming period
2014-2020
Project duration
07/2016 - 06/2019
Total Investment
1 808 285 EUR
EU Investment
1 356 214 EUR
Contact
Managing Authority
Autorité de gestion: Consejería de Economía, Hacienda y Empleo, Gobierno de Cantabria
Plaza del Príncipe, 4, 1ª planta, 39003 SANTANDER
Beneficiary
Université Toulouse III Paul Sabatier
DREIC
Bâtiment Le Forum - 1er étage-Bureau 155, 118 route de Narbonne
31062
, Toulouse
Türkiye
Web