Reinforcing civil protection and emergency response around the Spanish-Portuguese border
An EU-funded project is bolstering emergency response and civil protection in the EUROACE Euroregion, made up of Portugal's Centre and Alentejo regions and Extremadura in Spain, by developing early warning networks as part of environmental monitoring systems. The aim is to shorten response times on both sides of the border to prevent disasters such as forest fires or floods, or to minimise their impact on human lives, property and the environment.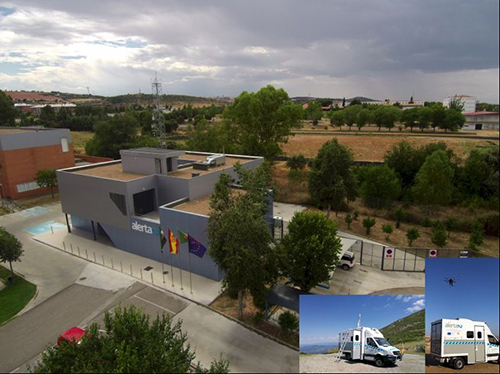 An EU-funded project is bolstering emergency response and civil protection in the EUROACE Euroregion by developing early warning networks. ©0017_RAT_VA_PC_4_E
" The project will guarantee agile and efficient management of civil protection means and resources, thereby offering a rapid and effective response to populations affected by disasters in the cross-border cooperation area. "
A cutting-edge, cross-border ICT platform is being set up to receive information from local environmental monitoring networks, high-resolution, infrared thermographic images generated from satellite data, and optical images from the satellites of the EU's Copernicus earth observation programme.
Bringing these elements together in real time on a single download station will ensure that civil protection services and emergency coordination centres on both sides of the border get a clear picture of emergencies quickly, thereby optimising prevention and response efforts and resource deployment.
In addition, the project will facilitate the creation of shared empirical and physical models for forest fire and flood risk planning and evaluation. These models combine thermographic, meteorological and optical variables with vegetation and fuel maps incorporating chlorophyll, humidity and rainfall indexes. Models of this kind are currently in short supply.
Susceptibility to climate change
The EUROACE Euroregion has low population density and widely dispersed population centres. Much of its territory is given over to agriculture and forestry, and these sectors play a decisive role in its economy, employing around 20 % of the population.
Forests and other natural landscapes account for more than 40 % of the EUROACE territory. Portugal's Centre region is home to 32 % of the country's forests and the Serra da Estrela, Serra da Malcata and Serra de São Mamede natural parks. Moreover, EUROACE has a typically Mediterranean climate, which makes it particularly susceptible to climate change.
Given this susceptibility, the Euroregion is an appropriate place in which to launch an automatic, real-time environmental early warning network and a cross-border emergency management and response structure. Development of such structures using telematics-based environmental analysis tools is not widespread at present.
A strong cross-border network
Project partners include the Department for Emergencies, Civil Protection and the Interior and the Department for the Environment of the Regional Government of Extremadura, the Portuguese Environment Agency and the Portuguese National Emergency and Civil Protection Authority.
Another partner is the Hispano-Portuguese Centre for Early Warning Networks of the University of Extremadura. Its servers are used to gather the data from local monitoring networks such as the radiation alert network, the flood prediction system and the meteorological network.
A simulation exercise has been carried out to test how the system works. Public emergency information has been adapted into clear and accessible language to reduce the vulnerability of people with disabilities to disasters. Also, a video depicting the functioning of the system has been produced, as have videos and learning materials for children, guides, leaflets and a website.
Videos
Total investment and EU funding
Total investment for the project "Early warning networks in environmental monitoring systems for civil protection support" is EUR 3 856 250.28, with the EU's European Regional Development Fund contributing EUR 2 892 187.71 through the "Interreg V-A - Spain-Portugal (POCTEP)" Operational Programme for the 2014-2020 programming period. The investment falls under the priority "Territorial Cohesion".
Draft date
21/02/2020
Social media
Related themes
Contact
Managing Authority
Subdirección General de Cooperación Territorial Europea
Paseo de la Castellana nº 162, 28071 Madrid
Beneficiary
Junta de Extremadura
Consejería de Agricultura, Desarrollo Rural, Población y Territorio, Dirección General de Emergencias, Proteccion Civil e Interior
Avda. Delgado Valhondo, s/n. Edificio III Milenio. Módulo 2, 2ª Planta
06800
, Mérida
España
Web