Essential infrastructure for the Andalusian rail network
A major project backed by the ERDF is providing the last section of platform for completion of the railway line between the cities of Antequera and Granada in southern Spain. The project includes various supplies, track assembly, electrification, signalling and telecommunications installations.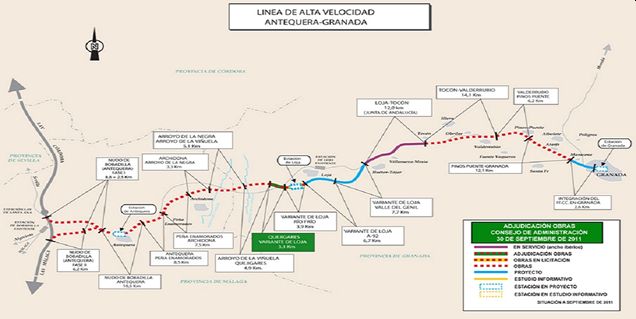 The project will complete the railway link between Antequera and Granada, in southern Spain. ©European Union
This is third and final phase of a wider scheme for the construction of 121.2 km of high-speed, double-track railway line between Antequera and Granada. The new electrified line allows trains to run in conditions of safety and comfort at maximum speeds of 300 km/h.
Phase three also covers the completion adaptations at the Loja bypass, west of Granada.
Improving connections
This project contributes to meeting the wider scheme's objectives. The high-speed line will help improve connections in the EU's Trans-European Transport Network (TEN-T). It will contribute to a significant reduction in travel times between the main cities of the Andalusian corridor and the Mediterranean. More specifically, the new line plays a key role in establishing a new high-speed railway connection between Madrid, Córdoba and Malaga Granada.
Smoother, quicker journeys
Other benefits delivered through the wider scheme include:
An increase in safety through the provision of perimeter fencing on both sides of the track and the elimination of all level crossings along the line;
An increase in capacity and regularity of services as a result of having double-track along part of the route;
An increase in comfort, through the establishment of optimal running and routing conditions; and
Quicker journeys for all service users and substantial improvements to long-distance passenger services.
The provision of modern railway infrastructure is expected to eliminate transport bottlenecks and boost economic activity in south-western Europe.
Total investment and EU funding
Total investment for the project "New sections of the Andalusian rail network for mixed traffic. Antequera - Granada Section: Phase III Platform, Supplies, Track Assembly, Electrification and Installations. Section: Antequera - Granada" is EUR 456 729 758, with the EU's European Regional Development Fund contributing EUR 161 823 554 through the "Multiregional "Operational Programme for the 2014-2020 programming period. The investment falls under the priority "Promoting sustainable transport and eliminating bottlenecks in fundamental network infrastructures".
Draft date
09/01/2020
Related themes
Contact
Managing Authority
Subdirección General de Gestión del FEDER, de la Dirección General de Fondos Europeos del Ministerio de Hacienda.
Paseo de la Castellana 162. 28071 Madrid
Beneficiary
Administrador de Infraestructuras Ferroviarias Alta Velocidad (ADIF-Alta Velocidad)
C/ Sor Ángela de la Cruz, 3. 8ª planta
28020
, Madrid
España
Web