Co-designed and evaluated digital services capitalise on high-speed broadband
The ERUDITE project partners are organisations that have extended high-speed broadband and digital services to rural and urban communities in their regions of Finland, France, Hungary, Ireland, Italy, Slovenia and Sweden, to enable all citizens benefit from the digital economy and contribute to its evolution.
The project itself looks to exploit the potential of these networks by developing business models to support deployment of new services that meet community needs and add tangible social and economic value.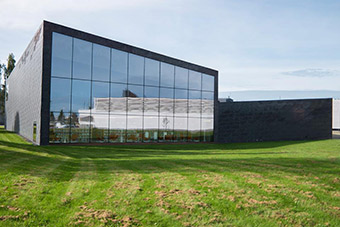 The Seinäjoki public library, Finland – a pioneer in digital services ©Nièvre Numérique
" Our stakeholders welcome the participatory approach in identifying the needs of the region, the services and products and the indicators for measuring the impacts. The public authorities were especially impressed by the methodology enabling them to work with the citizens, and the policy makers are mostly interested in the indicators, which show whether investments in services were efficient. The opinion from our stakeholders is that ERUDITE is not 'just another EU project', and the methodology can be used not only when developing digital products and services, but in many other situations. "
ERUDITE's regional partnerships involved citizens, businesses and local government in selecting, designing and delivering new digital services. The process combined open innovation with analysis of social and economic return on investment, to generate services which maximise benefits for the communities concerned.
Services have subsequently been set up and are being monitored based on indicators and values those involved in the project have chosen to measure their social, economic and environmental impact.
A service development roadmap
ERUDITE partners recognise that digitalisation and enhancing innovation capacity are essential elements of current policy instruments. However, exploitation of digital opportunities to create jobs, improve quality of life and boost the territories' capacity to attract people and investment has been limited. They concluded that a rethink of the processes involved in design and implementation of digital services in Europe was needed.
A key element in ERUDITE's contribution to this rethink is its formulation of the social and economic return on investment with open innovation methodology (SEROI+) – the process followed to create the new services. The SEROI+ roadmap has four steps: definition of policy or practice goals for services; identification of and engagement with stakeholders to define their goals; co-design of the service; and setting of indicators and values to estimate and monitor return on investment.
Concrete results
One result of the SEROI+ process is to establish a national fabrication laboratory (fab lab) network and individual, rural fab labs in Slovenia. Fab labs enable people to develop new products using digital manufacturing technology. The Slovene network – which has become a European reference point – aims to use the entrepreneurial potential of local communities to promote innovation, economic growth and the circular economy.
Another result is the development of the Inishowen Digital Hub in County Donegal, Ireland. It will provide innovation capacity building to create new tech jobs and start-ups, support existing companies that want to digitally transform their business models and help meet demand from local digital firms and multinationals for shared work space.
These actions were inspired by the fab lab in the small town of Lormes, in the French department of Nièvre. Lormes has been working to use the potential of ICT to foster economic and social development in rural areas since the late 1990s. ERUDITE has promoted its efforts as a good practice, along with initiatives such as the digital services provided by the public library in Seinäjoki, western Finland and Lab Altobello, an urban laboratory for formulation of innovative practices to enhance quality of life in Mestre, in Italy's Veneto region.
Work is continuing under ERUDITE to create further digital services in the participating regions.
Total investment and EU funding
Total investment for the project "ERUDITE – Enhancing Rural and Urban Digital Innovation Territories" is EUR 2 075 178, with the EU's European Regional Development Fund contributing EUR 1 737 632 through the "Interreg Europe" Operational Programme for the 2014-2020 programming period. The investment falls under the priority "Research and innovation".
Draft date
22/03/2019
Related themes
Technical information
Fund
European Regional Development Fund
Operational programme
Interreg Europe
Thematic Objective
Access to and use of information and communication technologies (ICT)
Programming period
2014-2020
Project duration
04/2016 - 03/2020
Total Investment
2 075 178 EUR
EU Investment
1 737 632 EUR
Contact
Managing Authority
Région Nord-Pas de Calais Conseil régional
151, Avenue du Président Hoover, F 59555 LILLE CEDEX, France
Beneficiary
Digital Nièvre Joint Authority
7 avenue Marceau BP 40241
58002
, Nevers
France
Web