Business network supports women entrepreneurs on Austrian-Slovenian border
Female entrepreneurs along the Austrian-Slovenian border are expanding their companies thanks to a women's business network fostering knowledge exchange, cross-border cooperation and first steps towards internationalisation.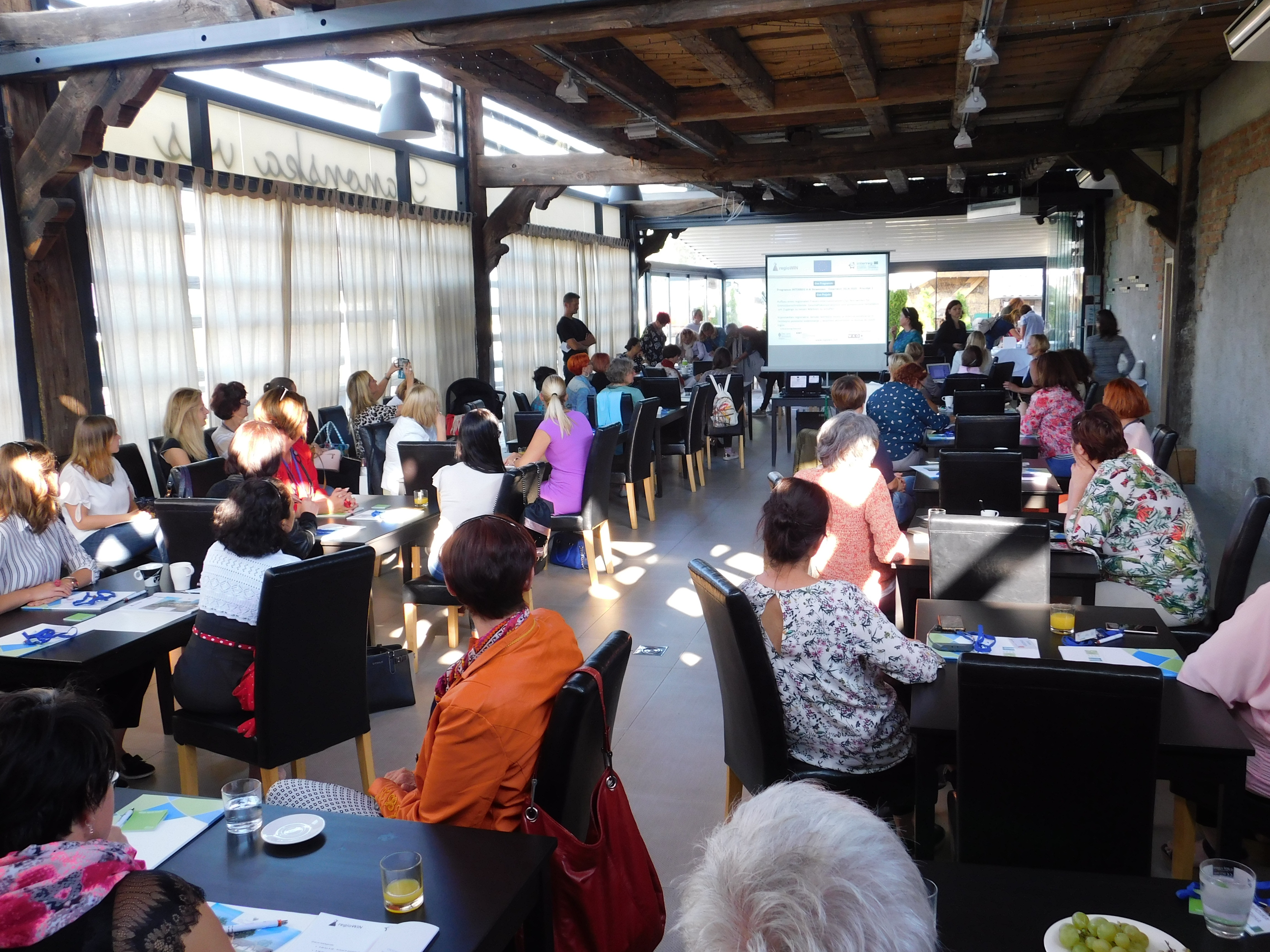 Cross-border workshop and B2B in Moravske Toplice, Slovenia, in September 2018 with women entrepreneurs from Austria and Slovenia ©Mitja Peterka, Projektpartner regioWIN PP04 LUMS
" "Personally, in addition to the cross-border cooperation and internationalisation activities between the women entrepreneurs, the 'learning partnerships' that have emerged at different levels are the greatest success. Entrepreneurs and project partners have built up new knowledge and skills with their organisations, which will have a positive, long-term influence on their economic activities. We have learned what the success factors for successful cooperation are and where the stumbling blocks are." "
The project focusses on female entrepreneurs based along the Austrian-Slovenian border where women sometimes start their own businesses due to a lack of jobs, providing an economic boost to these mainly rural regions. However, their enterprises often lack resources in key areas such as networking, cross-border cooperation, exchange of know-how, marketing and promoting innovation potential – to name just a few. 
To tackle this, the project established a women's business network with 119 female entrepreneurs. This resulted in a cooperation framework to promote the regular exchange of knowledge. Entrepreneurs with different skills were matched up to initiate internationalisation projects and a 10-step tool to facilitate such endeavours was created. Taken together, these efforts have led to new cross-border cooperation. 
Cross-border value chain
Many of the women's companies are microenterprises that focus on their core competencies and lack awareness of the importance of cross-border activities in fostering business development. In a multi-step process, the project encouraged female entrepreneurs to become aware of new opportunities and markets beyond their country's borders. 
More than 100 activities were carried out as part of the project. In addition to the setting up of the network, five cross-border business-to-business events were held. Furthermore, 66 regional events and 10 cross-border fact-finding tours took place where project partners participated in on-site visits to businesses. Seventeen regional workshops and six cross-border workshops were also organised. 
Knowledge exchange
Project partners, role models and experts contributed their know-how on relevant topics in a bid to jointly build up the knowledge and skills within the network. A small to medium enterprise service with eight modules was established and a web-based platform was launched that placed the profiles of 85 women entrepreneurs online.
The participating women shared expertise with each other and learned about target and international markets, as well as legal aspects, communications and soft skills. Training in all these areas also took place, and project partners provided intensive support to the entrepreneurs throughout.
Total investment and EU funding
Total investment for the project "regioWIN" is EUR 850 754, with the EU's European Regional Development Fund contributing EUR 723 141 through the "Interreg V-A Slovenia-Austria" Operational Programme for the 2014-2020 programming period. The investment falls under the priority "Strengthening cross-border research, innovation and competitiveness". 
Draft date
12/06/2019
Social media
Contact
Managing Authority
Government Office of the Republic of Slovenia for Development and European Cohesion Policy (GODC),
Kotnikova 5, 1000 Ljublana
Beneficiary
Innovation Region Styria GmbH
Liebenauer Hauptstrasse 2-6
8041
, Graz
Österreich
Web