Cycling facilities put Romania-Serbia cross-border area on the tourist map
An EU-funded project developed the 'Tour de Banat' regional cycling centre and complementary infrastructure to attract more visitors to the scenic Romania-Serbia cross-border region. The initiative provided a centre for cyclo-tourism in the village of Srpska Crnja, in the central Banat district of Serbia, and a tourist stop for cyclists in the neighbouring town of Jimbolia, in Timis county, Romania. Cycling routes and information packs formed part of the project package.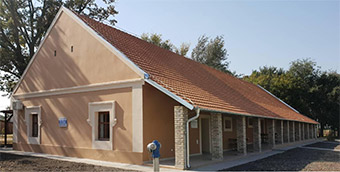 Tour De Banat Regional Centre for Cyclo-tourism ©Municipality of Jimbolia
" I am convinced that in the future we will continue the cross-border cooperation between our localities, further promoting cycling activities by a common project through which Jimbolia and Nova Crnja plan to build bicycle tracks to link the two neighbouring countries. "
The regional centre was developed as a multipurpose facility to offer cyclists practical support as they explore local routes. It was developed by renovating a building on the grounds of Neuhausen Castle. The new centre includes four rest rooms, which cyclists can use free of charge after booking through the Tour de Banat website. In addition, the centre has tools for basic bike repairs, facilities for washing and drying clothes, and a secure space for parking bikes.
The tourist stop in Jimbolia is a paved platform with wooden benches, tables, trash bins and bike racks. Shrubs and trees have been planted to make it an attractive place to stop and rest. The provision of lighting means the facilities can be used at night. The platform is also functions as a space to host cycling events and exhibitions.
Complete package
The project team mapped and defined four new cycling routes called 'De Tours', with total length of 290 km. The routes have basic sign-posting and provide a link to the EuroVelo 13 bicycle corridor, which runs from Norway to Bulgaria.
Tour de Banat's package of measures included development of an interactive web portal, mobile app and printed maps which cyclists can use to plot their journeys. These products have links to accommodation and information about local attractions. In addition, a Tour de Banat brochure provides hints and tips for safe cycling, especially when riding in large groups.
Sustainable network
To ensure the Tour de Banat's long-term sustainability, a cross-border network has been established, including local authorities, cycling groups and tourist organisations. Key partners are working to develop Cyclo-Fest, an annual two-day event that aims to raise the profile of cycling as a tourist activity in this cross-border region. The partners are pushing for the creation of new bicycle trail between Nova Crnja in Serbia and the Romanian border.
Video:
Total investment and EU funding
Total investment for the project "Tour De Banat" is EUR 535 933, with the EU's Interreg IPA fund contributing EUR 455 543 through the "Interreg IPA Cross-border Cooperation Romania-Serbia" Operational Programme for the 2014-2020 programming period. The investment falls under the priority "Attractiveness for sustainable tourism".
Draft date
12/04/2019
Related themes
Contact
Managing Authority
Ministry of Regional Development and Public Administration, Romania
Bdul. Libertatii 12, Bucuresti
Beneficiary
Municipality of Nova Crnja
Beneficiary
Municipality of Jimbolia (RO)
No. 81, T. Vladimirescu Str.
305400
, Jimbolia
România
Web
Beneficiary
Regional Agency for Socio-Economic Development Banat Ltd (SRB)
Čarnojevićeva 1
23000
, Zrenjanin
Serbia
Web