VISA – A platform for recruitment, employment in Bulgaria-Romania cross-border region
A new online platform and labour agency set up by the EU-funded VISA project is promoting cross-border labour mobility in Bulgaria and Romania by linking job seekers to jobs and employers to talent. Over 330 job seekers and employers from both sides of the border have taken advantage of its many services so far.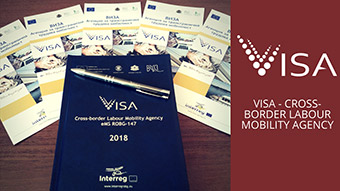 Study and promotional material produced for the VISA project, that helps job seekers in Bulgaria and Romania find work. ©Bulgarian-Romanian Chamber of Commerce and Industry
" The VISA Agency, operated by the Bulgarian-Romanian Chamber of Commerce in Ruse, is the only specialised organisation in the region, and in the whole of Bulgaria and Romania, with the resources, knowledge, and expertise to support both employers and job seekers when it comes to working or sending workers to the neighbouring country. "
A chronic shortage of workers, an imbalance in the supply of and demand for skills, a lack of information about the neighbouring labour market, language barriers, and bureaucratic hurdles. These are just some of the challenges job-seekers and employers face in the Romania-Bulgaria cross-border region.
To overcome these hurdles to regional employment and cross-border labour mobility, the project established the Visa Labour Mobility Agency. Run by the Bulgarian-Romanian Chamber of Commerce and Industry, with a head office in Ruse, Bulgaria, and a satellite office in Slatina, Romania, the agency is a one-stop-shop for employers and job-seekers.
Connecting job seekers and employers
The online platform is an easy-to-use service that connects job seekers with jobs and employers with available talent. Available in Bulgarian, Romanian, and English, the site has general information on the rules and regulations for working and hiring in each country, including workforce availability, salary levels, legal and tax implications, and residency requirements. One of the site's most popular features is an interactive map highlighting all available training, educational, and work opportunities available across the region.
A range of specialised services
In addition to these general services, the agency provides a range of specialised services. For example, companies can work with sector-specific experts to help with recruitment drives and integrating new employees. Job-seekers can use the agency's fully-licensed training centre, which has an array of skill-building courses, certifications, and language lessons. To date, the agency has held 30 direct consultations with companies and 120 consultations with job-seekers. The agency regularly organises exchange visits, bringing a group of Bulgarian job seekers to Romania and vice versa.
It conducts research and publishes information on the local labour market. This has included an in-depth study on labour mobility and two pocket guides for commuters. The pocket guides are available in both Bulgarian and Romanian and provide basic information about the other country. They are meant to be an entertaining, yet informative read during the morning commute.
A new media campaign and a packed schedule of information sessions and company visits are expected to help the agency expand its reach and help more people in the coming years.
Total investment and EU funding
Total investment for the project "ROBG-147 Visa Cross Border Agency for Work Mobility" is EUR 498 818, with the EU's European Regional Development Fund contributing EUR 423 995 through the "Interreg V-A - Romania-Bulgaria" Operational Programme for the 2014-2020 programming period. The investment falls under the priority "Jobs, growth and investment".
Draft date
12/04/2019
Related themes
Contact
Managing Authority
Romanian Ministry of Public Works, Development and Administration
16, Libertatii Avenue, Sector 5, Bucharest
Beneficiary
Bulgarian-Romanian Chamber of Commerce and Industry
12-14 Voyvodova St
7000
, Ruse
България - Bulgaria
Web