Interregional mutual assistance in emergencies and cross-border risks
The ARIEM+ project has developed a mechanism to support collaboration between services in the Spanish regions of Galicia and Castile and Leon and those in northern Portugal responsible for mobilising and managing resources during events such as forest fires, floods and erosion. It has created a single operational command structure to improve response coordination and elaborated harmonised protocols and tactics for tackling emergencies.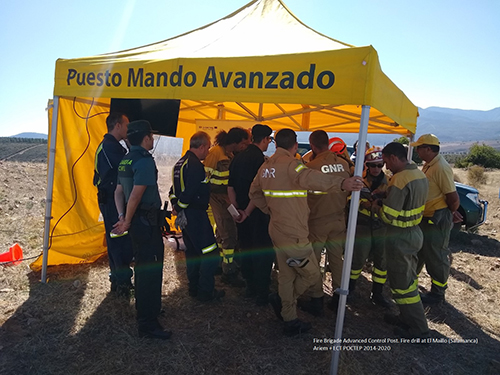 An advanced control post set up during a fire drill at El Maillo, in Salamanca. ©Consejería de Fomento y Medio Ambiente C/Belinda Guerra Burton (2019)
" ARIEM+ has enabled the member institutions to improve coordination at different levels on prevention and detection of, and intervention against, emergencies including forest fires, which are quite common in the border area. The project has also allowed Castile and Leon to acquire specialised firefighting vehicles and personal protection items to improve firefighters' efficiency. "
Studies were performed to identify and map the risks in the regions, based on which a zonal plan for dealing with cross-border emergencies was drawn up. Eight emergency vehicles (off-road firefighting vehicles, specialised vehicles in floods and pumper trucks), firefighters' equipment, kits for emergency management tasks and three jet skis for incidents in coastal areas were acquired .The project will also  supply UAV's for firefighting tasks, and a surveillance and relief vessel. 
The Single Operational Command structures will be based upon a network of Advanced Command Posts supported by an integrated platform. The platform allows all firefighting or emergency rescue resources to be located at all times. Their position can be visualised on both sides of the border in control centres and on tablets or other devices at the fire site.
Training for different professional profiles was discussed at a conference held in November 2017 in León, where guidelines for training were established and followed for the rest of the project. Cross-border drills covering natural and man-made disasters were another part of the project. Awareness-raising actions were held, including training on emergency prevention and staying safe should a disaster occur.
Boosting resilience
Galicia, Castile and Leon and northern Portugal have many natural hazards, some of which are exacerbated by human activities. ARIEM+ boosts these countries' resilience by promoting investment to address specific risks, building capacity and developing systems for joint disaster prevention, response and management.
The flood and forest fire measures formulated under the project – which constitutes the second phase of a programme initially launched in 2011 as ARIEM112 – are expected to benefit more than 600 000 people.
Cross-border drills
Cross-border drills included simulations of a search-and-rescue operation following a fictitious accident involving an aircraft and the ferry between Caminha in Portugal and A Guarda in Spain, and the rescue of people who had got into difficulty while hiking and climbing in the mountains around Mogadouro in Portugal.
Two final exercises focusing on collaboration in preventing and extinguishing forest fires were organised in Spain in October 2019, both using real fire. The first took place in Rosinos de la Requejada, near Zamora. The second was in Serradilla del Arroyo, near Salamanca, where a fire devastated more than 70 ha in August 2019.
An advanced command post was set up in a place from where the staff in charge of the institutions taking part could observe ground and air operations with fire engines and tankers, helicopters, amphibious aircraft and drones. The drones are especially useful for gathering information on the extent and intensity of fires and the location of fire crews. They filmed and took pictures of the proceedings for study purposes. 
Practical work covered detection of the fire, dispatch of teams to tackle it, initial and enhanced firefighting efforts and subsequent incorporation into the teams of reinforcements from other regions. It focused on keeping lines of communication open and maintaining direct contact between personnel from each country to ensure firefighters' safety. This is particularly important given the differences between radio frequencies and communication systems in the various regions of Spain and Portugal.
After the drills, a set of conclusions was drawn up indicating how they could be applied to real-life situations.
Videos
Total investment and EU funding
Total investment for the project "0373_ARIEM_PLUS_6_E – Interregional mutual assistance in cross-border emergencies and risks" is EUR 4 193 521, with the EU's European Regional Development Fund contributing EUR 3 145 141 through the "Interreg V-A - Spain-Portugal (POCTEP)" Operational Programme for the 2014-2020 programming period. The investment falls under the priority "Territorial Cohesion".
Draft date
21/02/2020
Related themes
Contact
Managing Authority
Subdirección General de Cooperación Territorial Europea
Paseo de la Castellana nº 162, 28071 Madrid
Beneficiary
Axencia Galega de Emerxencias AXEGA (Vicepresidencia -Consellería de Presidencia, Admnistracións Públicas e Xustiza, XUNTA DE GALICIA). (Lead Partner)
Centro Integrado Atención Emerxencias
Avenida da Cultura S/N
36680
, A Estrada
España
Web