Boosting innovative capacities for home healthcare in eight European regions
Eight European regions have joined forces to drive innovation in the healthcare sector. The Interreg Europe HoCare project helped partners share good practices and develop action plans that contribute to the improvement of policies and deliver new services for innovative solutions in home healthcare. The collaboration is strengthening regional innovation systems and optimising the use of EU structural and investment funds. The resulting innovations will help Europe's ageing population live more actively and stay independent for longer.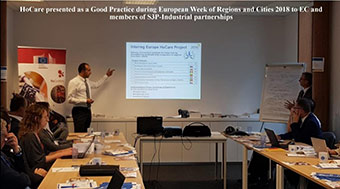 The Interreg Europe HoCare project promotes collaboration for home healthcare solutions. ©Interreg Europe HoCare Project
" The Interreg Europe HoCare project succeeded in improving the European structural and investment funds policy instruments of the participating regions in the sector of e-healthcare through intensive exchanges between the partners and their regional stakeholders. "
HoCare brought together regions from Cyprus, Bulgaria, Czechia, Lithuania, Hungary, Romania, Portugal and Slovenia. 
During phase one of the project, the regions exchanged experiences and shared 33 good practices which could be replicated to improve the delivery of policies for innovation in the home care sector. The main outcomes from this work included drafting regional situation analyses, publishing joint thematic studies and reports and hosting 57 policy learning events. This laid the ground for each region to develop action plans designed to improve their policies by boosting innovation systems and generating new home care policies, products and services. 
The project's second phase saw the action plans implemented under the supervision of the regions' managing authorities that are in charge of distributing money from structural and investment funds. The goal here was to improve the strategic focus, management and implementation of new projects developed through the plans, while ensuring best use of around EUR 22 500 000 of potential EU-led investment.
Delivering change
The approach of Interreg Europe project HoCare is already producing positive changes to policies that could lead to innovation in home care. For example, Cyprus is testing new e-health home care services after taking inspiration from a scheme running in Slovenia. In Bulgaria, the development of tele-medicine and tele-health services have been included in the country's regional innovation strategy. 
Cooperation model
The project team used what is known as the quadruple-helix model of cooperation in its work. The model brings together service users, businesses, research organisations and public authorities to produce innovation. Such partnerships are capable of achieving much more than one organisation working alone.
Videos
Total investment and EU funding
Total investment for the Interreg Europe project HoCare is EUR 1 247 673, with the EU's European Regional Development Fund contributing EUR 1 041 361 through the Interreg Europe Operational Programme for the 2014-2020 programming period. The investment falls under the priority Research and Innovation and under the specific objective 1.2 – Improving innovation delivery policies.
Draft date
02/12/2019
Technical information
Fund
European Regional Development Fund
Operational programme
Interreg Europe
Thematic Objectif
Strengthen research, technological development & innovation
Programming period
2014-2020
Project duration
04/2016 - 03/2020
Total Investment
1 247 673 EUR
EU Investment
1 041 361 EUR
CCI
2014TC16RFIR001
Contact
Managing Authority
Région Nord-Pas de Calais Conseil régional
151, Avenue du Président Hoover, F 59555 LILLE CEDEX, France
Beneficiary
Nicosia Development Agency (ANEL)
6 Evagora Pallikaridi, PO Box: 12852
2253
, Latsia, Nicosia
Κύπρος - Kýpros
Web