Restoring the Grodno medieval castle in Zagórze, Poland, to its former glory
The renovation of the Grodno medieval castle has improved the site's tourist appeal and created opportunities for the local community. The project has safeguarded the region's cultural heritage and increased its cultural offering.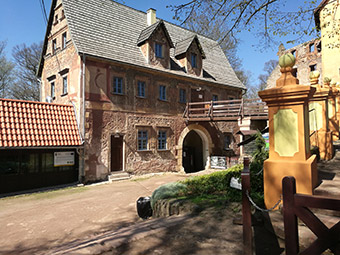 The renovation of the Grodno medieval castle has improved the site's tourist appeal and created opportunities for the local community. ©Urząd Marszałkowski Województwa Dolnośląskiego (2018)
" Grodno castle is the showcase of our commune. Thanks to the reconstruction it has gained attractiveness and is visited by more and more tourists, who come for the night tour of the castle. We hope that this trend will continue. "
The castle has been reinstalled as a hub of culture and tourism in Lower Silesia, in south-western Poland. Several important parts of the edifice have been reconstructed and renovated, boosting both the attractiveness of the historical site and the number of visitors in the region.
Expanding the cultural offering
With the help of EU funding, several parts of the structure that were in decay, or unused, were renovated, including the covered passage leading to the castle. In addition, the gate house and defensive tower, which were inaccessible to visitors before the project began, were reconstructed and included as important parts of the castle tour, expanding its cultural offering.
The 16th century gate house collapsed in the 19th century due to a lack of funding and upkeep. It was renovated entirely, and now features three new rooms, a reception and a new, larger restaurant. New sanitary facilities for both inn guests and tourists were constructed.
New look, new visitors
New equipment was acquired for the original inn's kitchen and main hall. New multimedia equipment allows for the organisation of cultural events in the main hall, such as exhibitions, historical productions, film screenings, book presentations and concerts.
Thanks to the project's efforts, the castle has become more attractive for tourists passing through the region and ticket sales have increased as well. In 2018, the number of tickets sold rose to over 56 000, which is 16 000 tickets more than were sold in 2015, before the reconstruction works began. The project led to the creation of three new jobs inside the castle.
The castle is located in the southern part of the Wałbrzych mountains, alongside the Bystrzyca river. With a history spanning 900 years, it has been a point of cultural, historical and economic importance for the region.
Total investment and EU funding
Total investment for the project "Grodno Medieval Castle – as a hub of culture and tourism – redevelopment of elements of Grodno Castle in Zagórze Śląskie: gate house, covered passage and renovation of the defensive tower" is EUR 482 416, with the EU's European Regional Development Fund contributing EUR 284 923 through the "Lower Silesian Voivodeship" Regional Operational Programme for the 2014-2020 programming period. The investment falls under the priority "Internal Market".
Related themes
Contact
Managing Authority
Zarząd Województwa Dolnośląskiego obsługiwany przez Urząd Marszałkowski
Wybrzeże Juliusza Słowackiego 12-14, 50-411 Wrocław
Gmina Walim Boczna 9
58320
, Walim
Polska
Web