Polish company develops a free and easy way to learn coding and programming
Sum up what the project did + results. Include country and region. Treat this as your lede. Developed in Poznań, capital of Poland's Wielkopolskie region, CodeAll is a unique toolkit aimed at improving the digital skills of people worldwide. Its main element is a chatbot that allows anyone with internet access to learn programming for free, just by starting a conversation with it. The chatbot uses machine learning to analyse students' coding errors and questions, thereby expanding its own knowledge and increasing its effectiveness. It is thus able to monitor users' progress and adapt the form and pace of the process accordingly.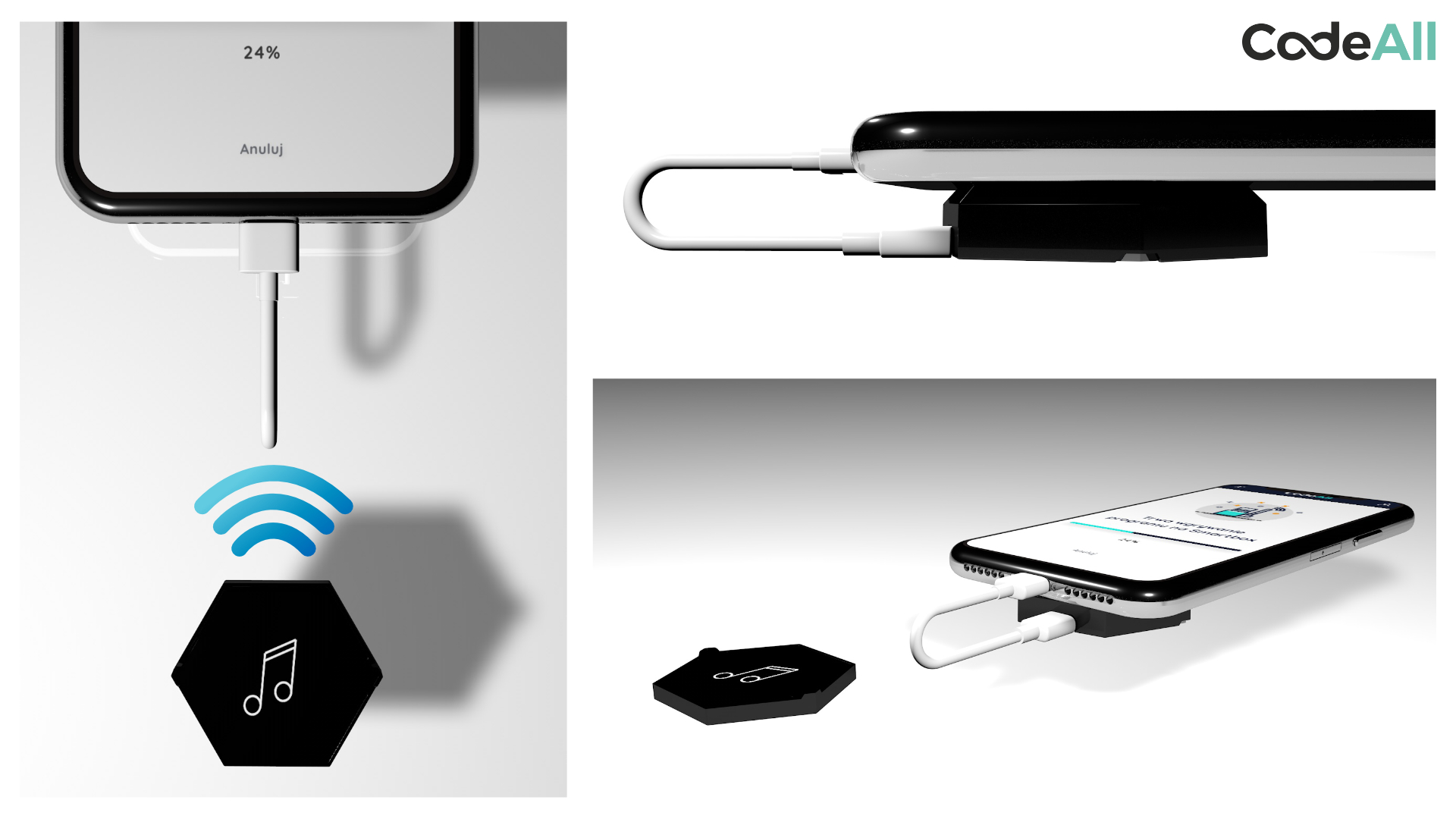 A sensor, connected to a smartphone, is used with the CodeAll mobile app to teach students programming. ©Expansio sp. z o.o/ Mateusz Jarus (2020)
" CodeAll is a revolutionary tool for learning programming. It is a self-education toolkit that allows immersive, affordable and reliable acquisition and development of an entry-level digital skill set. This skill set includes programming, algorithmic thinking, internet of things concepts, creativity and problem solving. The knowledge is gained in a practical manner, provided by an AI tutor-bot and a set of wireless sensors. "
Internet of things sensors, which are available for purchase, are another feature of the CodeAll toolkit. They enable learners to turn the everyday technology around them into a smart environment that can help with things like car parking, setting up home alarms, managing lighting or domestic appliances, or getting notifications when post arrives or the laundry is ready.
By going beyond computers to show students how programming can be used in day-to-day situations, CodeAll makes it easier for them to gain an understanding of the subject's more complex concepts.
Automated learning
CodeAll's main aim is to improve Europeans' coding skills, to enhance their educational and job prospects and increase the number of programmers in Europe. The idea for the project came in 2016, when CodeAll CEO Mateusz Jarus spent an hour helping his 16-year-old cousin to learn about coding.
Mateusz showed his cousin an open-source browser game, modifying the source code and various features of the game. The experience led him to wonder if it would be possible to automate a coding learning process.
As downloads of chatbot apps onto mobile phones are increasing rapidly, he decided on a chatbot as a suitable teaching method, hired a team of developers and finalised a prototype in November 2017. The interaction between humans and the chatbot has been validated successfully and the toolkit entered the market in August 2020.
Work with schools
Programming is becoming a compulsory subject in many schools, but there is a shortage of people with the necessary qualifications to teach it. The CodeAll team spent over a year researching the effectiveness of different ways of teaching programming to almost 300 school students aged 13-19.
CodeAll continues to work with primary, secondary and technical schools in and around Poznań to test prototypes and get feedback from students and teachers. More than 300 students have taken part in workshops and four editions of a competition, the aim of which was to teach the chatbot by proposing alternative answers to questions which it got wrong. Entrants with the highest number of correct answers received awards. The plan is to organise workshops for schools in other regions.
Widespread recognition
Recognition of CodeAll's achievements has been widespread. In November 2017, it was one of 10 Polish start-ups selected to take part in the Google Launchpad accelerator programme. In July 2018, it was chosen from some 900 applicants to enter the Kickstart accelerator programme in Zurich.
At the second edition of the Edulab competition, CodeAll was voted most promising educational start-up in Poland. It was named in the global top 10 of educational technology start-ups by the South Summit conference in Madrid. Finally, in September 2018, the project was selected to represent the Wielkopolskie region at the International Conference on ICT for Development, Education and Skills in Rwanda.
Total investment and EU funding
Total investment for the project "CodeAll – innovative toolkit for learning programming with the use of chatbot and IoT sensors" is EUR 28 000, with the EU's European Regional Development Fund contributing EUR 28 000 through the "Wielkopolskie Voivodeship" Operational Programme for the 2014-2020 programming period. The investment falls under the priority "Research, technological development and innovation".
Draft date
17/12/2020
Social media
Related themes
Contact
Managing Authority
Zarząd Województwa Wielkopolskiego obsługiwany przez Urząd Marszałkowski, Departamenty: Polityki Regionalnej, Wdrażania Programu Regionalnego, Wdrażania Europejskiego Funduszu Społecznego, Wielkopolski Urząd Pracy w Poznaniu
al. Niepodległości 34 61-714 Poznań
Beneficiary
CodeAll
Poznański Park Naukowo-Technologiczny
ul. Rubież 46
61-612,
, Poznań
Polska
Web