Orthodox churches in Poland added to tourist route after regeneration work
Walls, paths and green spaces have been restored next to four Orthodox churches in Lublin, Poland through a project supported by the European Regional Development Fund. The regeneration work was carried out so that the churches in Hrubieszów, Sosnowica, Sławatycze and Kobylany could be included in a new tourist route called 'On the trail of Eastern Slavic tradition'. The trail aims to promote the region's cultural wealth to attract tourists and boost the local economy.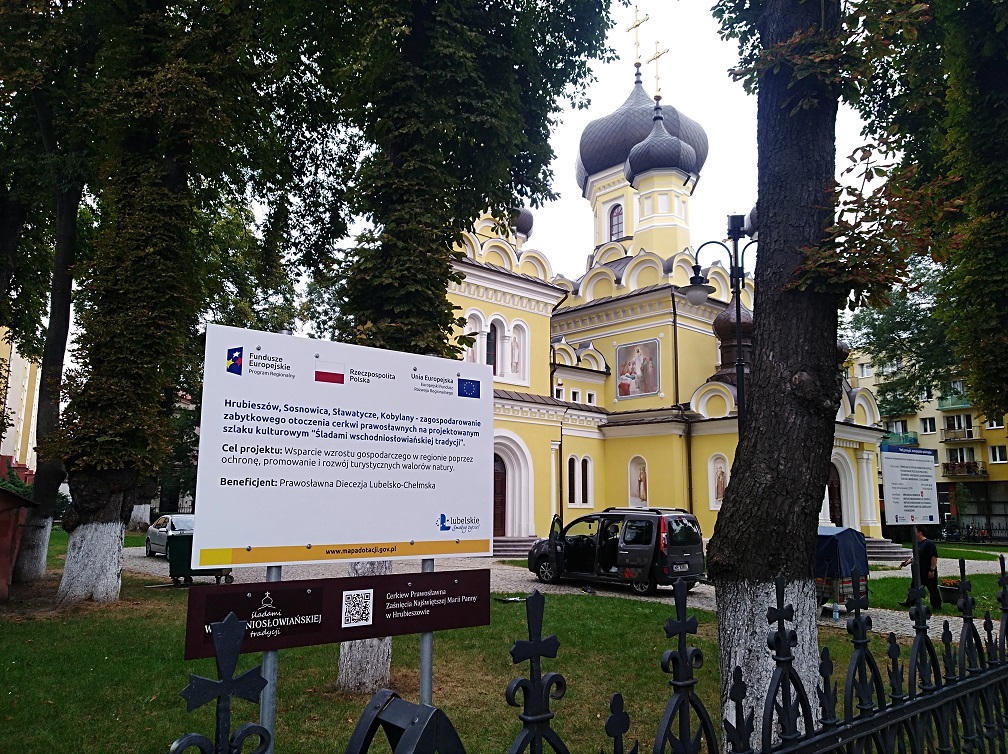 The church at Hrubieszów received support though the project 'On the trail of the Eastern Slavic tradition'. ©Katarzyna Gmiter-Meksula
" "A huge effort has been required to restore those frescoes to their original state. This is a great source of joy for me and my parishioners." "
Work undertaken through the project included restoring and extending the existing greenery; constructing pathways and landscaping around the edges of the historic church buildings; and repairing surrounding walls. The renovations were undertaken in response to needs identified by church parishes. The investment was implemented in mainly poor rural areas and addressed needs specific to each location.
Attracting visitors
The broader objective was to add to the appeal of the churches as interesting places to visit, either individually or as part of the new tourist route, which includes orthodox churches in neighbouring provinces. The trail is being promoted nationally, and the four Lublin churches are included in the marketing plan. This gives the churches and their localities a higher profile, which should help attract more visitors to the region.
Harnessing IT
Some of the churches included in the project – along with others whose repairs have already been completed, like the orthodox church in neighbouring Uhrusko – have been provided with plaques with the name and details of the trail. The information comes complete with QR codes which can be used on mobile devices to access films about each site and their place on the trail. More films will be made as renovations at other church sites are completed in complementary projects.
Total investment and EU funding
Total investment for the project "On the trail of the Eastern Slavic tradition" is EUR 624 239 (PLN 2 688 390), with the EU's European Regional Development Fund contributing EUR 530 603 (PLN 2 285 131) through the "Lubelskie Voivodeship" Regional Operational Programme for the 2014-2020 programming period. The investment falls under the priority "Social Inclusion".
Social media
Related themes
Contact
Managing Authority
Zarząd Województwa obsługiwany przez Urząd Marszałkowski
ul. Artura Grottgera 4 20-029 Lublin
Beneficiary
Prawosławna Diecezja Lubelsko Chełmska (Orthodox Diocese of Lubelsko Chełmska)
ul. Ruska 15
20-126
, Lublin
Polska
Web