New cycle routes get tourists and locals in Małopolskie, Poland on their bikes
To help develop tourism, promote healthy living and encourage the use of cycling as a mode of 'green' transportation, Poland is implementing a cohesive network of safe and comfortable cycling routes across the Małopolskie region.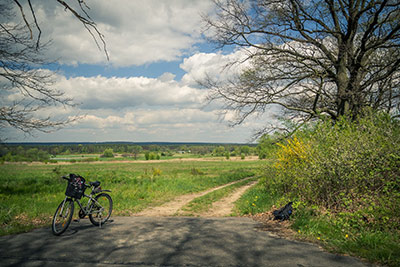 Cycling through the Polish countryside ©Creative Commons
" Małopolskie has true potential for developing cycling tourism. For this reason, we decided to encourage our citizens and tourists to visit and explore our region by bike. But before this can happen, we must first provide riders with safe and comfortable routes without which cycling tourism will not develop. Hence the launch of the ambitious project called Velo Małopolska. "
With its diverse landscapes, historic monuments and scenic villages, the region in the south-east of Poland is the ideal setting for active tourism and recreation. Many of these places are best visited by bike. Although the region has more than 5 000 km of marked cycling trails, the vast majority are short, and few connect with others. 
The Velo Małopolska project is developing a cohesive network of cycling routes that, when complete, will connect the entire region. A total of 960 km of cycling routes are planned. One of these routes is the 26 km section funded by this project, which runs along the scenic embankments of the Dunajec River. 
Known as the VeloDunajec Route, the path originates in Ostrów, a village in the Wierzchosławice commune. Following the left side of the river, it runs through the villages of Biskupice Radłowskie, Radłów and Żabno, before coming to an end in Wietrzychowice, where it connects with the Vistula cycle route.         
A passion for cycling 
According to project organisers, the goal was to arouse a passion for biking and to demonstrate how cycling is a fun, efficient activity open to everyone. The cycling routes are built to the highest standards, using asphalt surfaces, separated lanes from vehicular traffic, clear signs and minimal elevation changes. The routes are also supported by essential infrastructure, including toilets, rest stops and picnic areas. 
Thanks to these features, the routes are safe and comfortable for cyclists of all abilities and for all types of bikes. Furthermore, places that were once only accessible by experienced cyclists are now available to everyone – giving them access to some of the region's most beautiful landscapes and spectacular scenery. 
Off the beaten path
Although the project remains a work in progress, organisers say they are already seeing an increase in people – including tourists – using the completed routes. When complete, the integrated Velo Małopolska route is expected to boost the area's attractiveness for active tourism. As the routes will run through many 'off-the-beaten-path' villages, they will also promote the region's many towns and communes that are often left in the shadows of such popular tourist stops as Kraków, Zakopane and Oświęcim.  
In addition to its tourism benefits, the project will promote an active, healthy lifestyle for locals. Because the routes will connect villages and cities, they will serve as a sustainable, environmentally friendly transportation option. 
Total investment and EU funding 
Total investment for the project "Development of an integrated network of cycle routes in Małopolska" is EUR 1 640 176, with the EU's European Regional Development Fund contributing EUR 975 095 through the "Malopolska Regional Operational Programme" Operational Programme for the 2014-2020 programming period.