Equal access to fast broadband across Poland
Backed by EU funding, the 'Poland enters gigabit society' project has been rolled out across the country to eliminate territorial inequalities in fast broadband access. One of the most extensive broadband network construction projects in the EU, its ultimate aim is to strengthen territorial cohesion by putting high-speed internet at the disposal of schools and households in remote parts of Poland.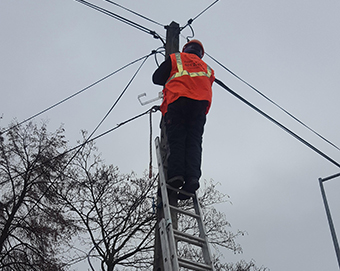 One of the most extensive broadband network construction projects in the EU, the Poland Enters Gigabit Society project is putting high-speed internet at the disposal of schools and households in remote parts of the country. ©Poland Enters Gigabit Society
" Our project's victory at the European Broadband Awards is a great success. This is one of the biggest, best and most extensive broadband network construction projects in the European Union. "
Telecommunications operators carrying out network construction tasks during the project will connect more than 11 000 schools and 1.7 million households to high-speed broadband infrastructure by 2020 and 2021 respectively.
The project covers over 13 % of all Polish households, and 50 % of Poland's so-called white areas – areas with little or no broadband provision. In excess of 68 % of the households that will be connected are situated in municipalities with fewer than 5 000 inhabitants.
Calls for proposals
Work began with the Digital Poland Project Centre making calls for proposals aimed at identifying contractors to install the infrastructure. The centre is the body responsible for allocating EU structural funds under the Digital Poland Operational Programme, within which the project is implemented.
Initially, 83 proposals were selected and further calls were subsequently launched. The digital centre is currently implementing 160 broadband network expansion projects, backed by some EUR 815.5 million in public grants – out of a maximum available publicly funded amount of EUR 913.5 million – and a further EUR 580 million in private-sector financing.
The Poland enters gigabit society project forms part of a wider national e-education programme intended to promote equal opportunities for all children in Poland and foster the development of a new method of high-quality learning. Aside from this, the high-speed network will provide communication, work, innovation, cultural and development opportunities in previously excluded areas.
European recognition
Constituting one of the largest-ever EU-backed investments of its kind, the project has received international recognition, winning first prize in the 'Territorial cohesion in rural and remote areas' category at the 2018 European Broadband Awards. Organised annually by the European Commission, the awards recognise exceptional projects which have contributed to expanding broadband access in Europe.
Composed of European telecommunications experts, the jury appreciated the project's significant impact on balanced territorial development and emphasised its scale and comprehensiveness. Its contribution to the adoption of modern technologies in Poland has likewise been noted.
Furthermore, thanks to its combination of public and private financing, efforts to limit public expenditure, application of rules-based competition and transparency, and promotion of equal opportunity between all areas of the country, the project has been held up as a model for similar initiatives in Europe.
Video
Total investment and EU funding
Total investment for the project "Poland enters gigabit society" is EUR 1 400 000 000, with the EU's European Regional Development Fund contributing EUR 810 000 000 through the "Digital Poland" Operational Programme for the 2014-2020 programming period. The investment falls under the priority "Information and communication technologies".
Social media
Related themes
Technical information
Fund
European Regional Development Fund
Operational programme
Digital Poland - ERDF
Thematic Objective
Access to and use of information and communication technologies (ICT)
Programming period
2014-2020
Project duration
10/2016 - 12/2020
Total Investment
1 400 000 000 EUR
EU Investment
810 000 000 EUR
Contact
Managing Authority
ministerstwo obsługujące ministra właściwego ds. rozwoju regionalnego, Departament Rozwoju Cyfrowego
Plac Trzech Krzyży 3/5, 00-926 Warszawa
Beneficiary
Digital Poland Project Centre
ul. Spokojna 13a
01-044
, Warsaw
Polska
Web