Community cinema network set up in Poland's Wielkopolskie region
The EU-funded 'Small social cinemas in Wielkopolskie Voivodeship' project has created four community cinemas – each with a capacity of around 20 to 30 seats – using existing public buildings in the municipalities of Mieścisko, Rychwał, Stare Miasto and Strzałkowo, which have a combined population of 50 000. The cinemas screen films for local residents to enable them to engage with culture and to foster community spirit.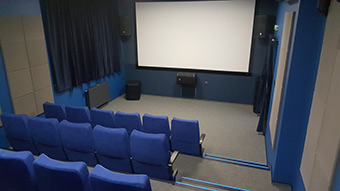 An EU-funded project has created four community cinemas using existing public buildings in Mieścisko, Rychwał, Stare Miasto and Strzałkowo ©Small Social Cinemas in Wielkopolskie Voivodeship
" In smaller municipalities there is a vibrant development of folk culture traditions, which is hugely valuable for Polish cultural heritage. However, it is more difficult to access 'high culture'. We would like our cinemas to be meeting points for local residents, where they can only watch films that are not shown in multiplex cinemas, but also live screenings of cultural and sporting events, and their own multimedia work. "
Screening rooms were fitted with high-definition projectors, sound systems, pull-down or fixed screens and risers with comfortable seating. They were darkened with blinds and blackouts, rewired, equipped with air conditioning and sound-proofed – including through replacement of windows and doors and by adding damping to reduce vibrations.
Organisers have access to a film library on external servers. The films are transferred to cinema servers once payment is made. The system makes it easy to register screenings and settle accounts, while ensuring respect for copyright law.
Cinemas for small towns and villages
Before 1989, there were over 3 000 cinemas in Poland. Today, there are only 500, mostly in big cities. However, numbers of people going to the cinema are growing. To cater effectively for this increased interest there is a need to open more cinemas in small towns and villages.
The Kino za Rogiem (Cinema round the Corner) network, which comprises some 50 small cinemas across Poland and to which the four cinemas covered by the project belong, was set up to meet this need. Its venues are rooms in places like cultural, sports and health centres, libraries, schools, fire stations, clubs and cafes adapted to function as cinemas. They are cheap to run, but have the same image and sound quality as modern multiplexes.
Customers can choose from the ever-expanding Kino za Rogiem library, which has nearly 1 000 titles covering the full range of genres. They decide on the date and time of the screening with the cinema manager.
Inspiration from other regions
The idea for the current project came in 2016, when local government officials from Wielkopolskie visited Wleń and Kowary in the Dolnośląskie region, where such cinemas were already in operation. They saw the opportunities they offered for residents and how well received they were. Creation of the network is intended to bridge the gap between home cinema and big commercial chains and increase the attractiveness of the region's cultural programme by giving locals the chance to see interesting films from Poland and around the world.
Rychwał was the first cinema of the four to open and now shows about 60 projections a month, many of them chosen by residents. Mieścisko and Stare Miasto followed, with Strzałków completing the project. Prominent Polish directors and actors attended the opening event at Stare Miasto, which included a show by a local school. During the first weekend, eight productions, both Polish and foreign, were presented.
Establishment of the Stare Miasto cinema has led to further developments in the vicinity, including creation of parking spaces and planting of greenery and flowers. Students and teachers have been particularly enthusiastic about the project. An application has been made for EU funding for a further 26 cinemas.
Total investment and EU funding
Total investment for the project "Small social cinemas in Wielkopolskie Voivodeship" is EUR 144 000, with the EU's European Regional Development Fund contributing EUR 91 000 through the "Wielkopolskie Voivodeship" Operational Programme for the 2014-2020 programming period.
Social media
Related themes
Contact
Managing Authority
Zarząd Województwa Wielkopolskiego obsługiwany przez Urząd Marszałkowski, Departamenty: Polityki Regionalnej, Wdrażania Programu Regionalnego, Wdrażania Europejskiego Funduszu Społecznego, Biuro Certyfikacji i Windykacji
al. Niepodległości 18 61-713 Poznań
Beneficiary
Stowarzyszenie Gmin i Powiatów Wielkopolski
Ul. Piekary 17
61-823
, Poznań
Polska
Web